Knooking 101: Knitting with Crochet Hooks
Knooking is so simple to learn for knitters AND crocheters. Plus, we've included some free knooking patterns for you to try!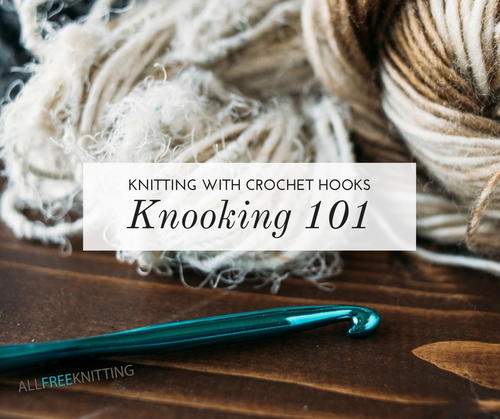 Learning how to knook is a great way for knitters to segue into crocheting and for crocheters to try their hand at something that looks more like knitting. Whether you do one or the other or both, knooking is a fun way to try something new with your fiber arts love!

Discover the ins and outs of this crochet and knitting hybrid that creates a knitted fabric from crochet hooks!

Knooking is a one-of-a-kind technique that creates a knitted fabric with the methods of crochet. In order to complete knooking patterns, you need to slightly new ways of doing the knit and purl stitches, so it's important to keep in mind it's not exactly a shortcut for learning how to knit. Whether you want to knit or knook will ultimately be up to you, but it's always fun to learn a new crafting technique.

Whether you knit or knook typically depends on what type of pattern you plan to work up. For instance, if you want to make a sweater or a pair of socks, knitting is probably the preferable method. If you simply love the look of knitted fabric and you want to make small projects, knook patterns may be right up your alley.
Your Recently Viewed Projects