Stitch Markers: 21 DIY Ideas For When You're in a Knitting Pinch
Learn what the best stitch markers are for when you've gone and misplaced yours again.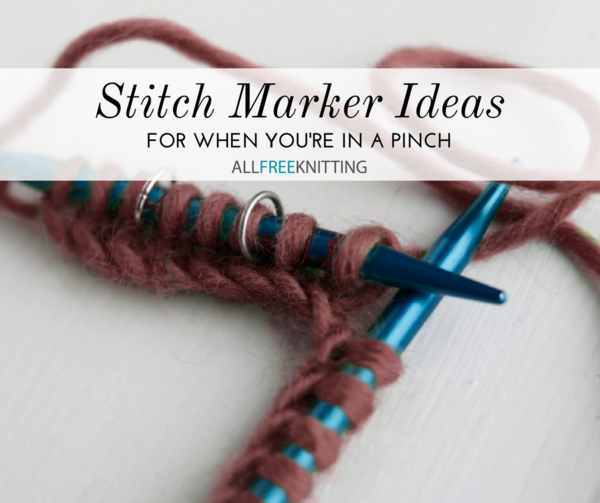 Stitch Markers DIY Ideas
Every knitter knows the feeling: you've come to a point in your work where your pattern tells you to "pm," or place a marker to denote a certain point. You reach in your knitting bag for your little plastic markers, only for your fingers to touch the bare bottom of your bag or accessories tin.

That second, every careless moment you've had with your stitch markers in the past week comes flooding back to you. One of them snapped in two just as you finished up your last shawl. Another three are still stuck on that work-in-progress sitting in the back of your closet that you haven't touched in months. At least two are somewhere under the pew at church.

In the last three years, I must have bought at least five new packs of stitch markers. Men and women alike often lament that they find bobby pins everywhere other than where they're supposed to be, such as bundled between the fibers of the carpet, on the rim of the bathtub, or stuck inside of books as bookmarks. This is the problem I have, but with stitch markers. So often I, like other knitters, find myself in a situation where there are no stitch markers in sight, but I absolutely need a marker now.

I took to Facebook and asked our knitterly readers what they do when they're hurting for stitch markers, and here's what they told me.
Use Common Household Objects
Jackie Wells Snapp: "Safety pins."

Lisa Williams: "I have used a hair grip before."

Nancy Tennier: "I use bobby pins. The tips are covered & don't split the yarn. They are very reasonably priced. I also put them on the pattern when I start a new project just so they are handy & I don't have to search for them."

Sharon Martino: "A piece of yarn."

Joyce Grove: "Tabs from soda cans."

Donna Sue Parge: "Earrings, safety pins, twist ties"

Elizabeth Herries: "Dental floss"


Get Creative
Diana Gentile: "Washers from my husbands work bench !!!"

Cheryl Palau: "Use the plastic colour rings that clip onto my electric toothbrush."

Jane Mole: "Cut up pieces of McDonald's straws"

Tamera Skur: "Bread ties and also once while camping, a small stick!"

Patti Moran: "One time I was knitting at Starbucks and needed a couple of stitch markers. So I tore a couple of very narrow strips off the paper bag my pastry had come in, twisted them really tightly and tied them into tiny circles. Did the trick till I got home."

Lynda Carraher: "Yarn loops if necessary. My go-to markers are the tiny little rubber bands for orthodontics. They are like five bucks for a package of 100 and come in different colors. Yes, I lose them all the time but I always have half a dozen in each knitting bag and a couple dozen in the little notions tray near my regular knitting spots."

Karen K Martin: "Pandora charms if the needles are small enough."

Karen Adamson Wepryk: "I have used my wedding rings in a real pinch!"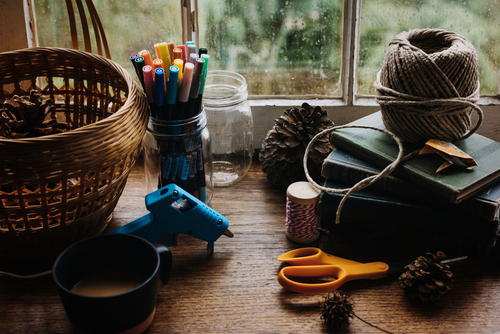 Deal With It
Nicole Ro: "I keep a box of stitch markers in pretty much every room of my house and in all of my bags due to losing them all the time! Before it came to that, however, I used scrap yarn tied in little loops!"

Suzanne Johnson: "Counting and swear words"

Marley Bray: "I never 'can't find my stitch markers' because they are all over my house. Little loops of yarn in a variety of colours. I think they are breeding or I am leaving a trail of them like Hansel and Gretel's crumbs"

Judith Stuck: "I have knitted since I was young and had never heard of stitch markers. I just wing it"

Trina Smith: "I am a tidy person and have all my supplies in one spot so I know exactly where to go!"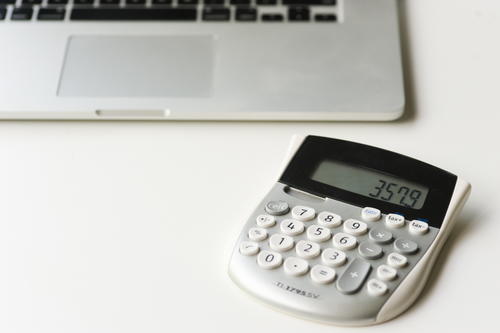 DIY Stitch Markers
Hopefully some members of our trusty knitting community gave you an idea or two of some makeshift stitch markers! There is, however, a more crafty option: you can make stitch markers yourself. Actually, this fun tutorial will help you create DIY stitch markers that are so pretty, you won't allow yourself to lose them in the first place.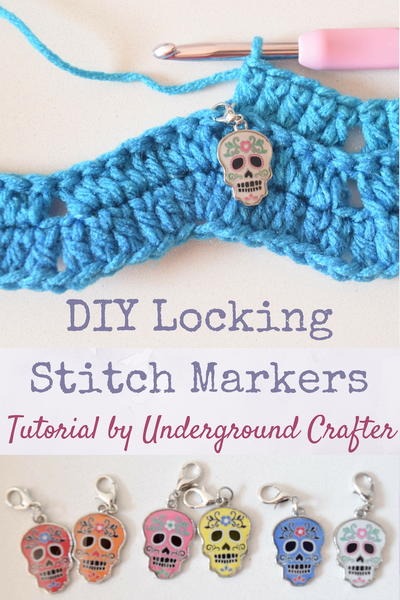 Your Recently Viewed Projects