How to Prevent Rowing Out in Knitting
Caused by uneven tension between rows, rowing out is the bane of new knitters attempting stockinette!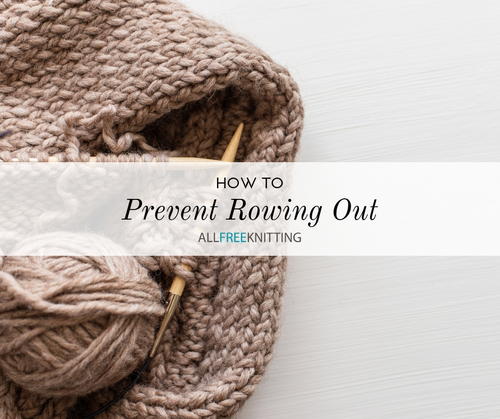 Picture it -- you've just started to learn how to knit, and you're trying your very first project in stockinette stitch. Not only do you have to master the purl stitch and easing stockinette curling, but you quickly learn that tension is not just how tight your individual stitches are. When you've finish your swatch, you flip it over to admire your work, and you're mortified by your uneven tension between your rows of knitting and purling.

If you've experienced this, you're not alone. Uneven tension between rows in stockinette stitch, or "rowing out," as many knitters call it, is very common. It is definitely a little frustrating when it's noticeable, but it's really nothing to worry about, and it certainly doesn't mean that you're a bad knitter. Nonetheless, here are a few tips for preventing rowing out in knitting:
1. Try Using a Smaller Needle for Purling
Most of the time, rowing out in knitting is caused by purled rows that are too loose. One solution to this is to simply switch one needle one size smaller. This will tighten your stitches on the wrong side rows, where the majority of rowing out happens.

Don't know which size to use instead? Check out our handy guide to knitting needle sizes and find just the right size for your purl rows: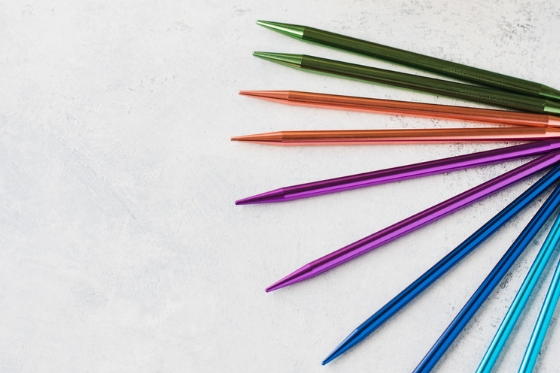 2. Try the Norwegian Purl
Similar to learning a new style of knitting, learning the Norwegian style of purling can be a little awkward at first, but if you really commit to it, it can be a great way to even out the tension between your rows.

This purling technique involves holding the yarn over your working needle in the back, inserting your needle as if to purl, and then twisting the needle around to pick up the working yarn similar to the way that you would pick it up for a knit stitch.

If this sounds overly complicated, we recommend checking out this handy video by Staci from VeryPink.com on how to do the Norwegian purl!
3. Try Portuguese Knitting
Portuguese knitting is a style of knitting that involves wrapping the working yarn around your neck. This style is incredibly helpful for purl-heavy patterns, like stockinette knit flat. Because the tension in the yarn is held around your neck instead of in your hands, you can be sure that it will be more even and more consistent with your knit stitch rows.

That said, Portuguese knitting, while great for purling, does sometimes make knitting a little bit more challenging. And switching between Portuguese knitting and another style, like continental or English, would be a pain.
4. Try Combination Knitting
If you're not familiar with it, Combination knitting is a knitting method that combines the Eastern and Western methods into the same fabric. The main differences between these two methods is that Eastern knitting places the leading leg in the back and Western knitting places it in the front. There are other differences, such as the direction of the wrap and whether stitches are worked through the front or back loops.

Combination knitting, on the other hand, uses Western knitting for the knit stitches and Eastern knitting for the purls. This means that you don't have to switch the yarn to the front of your needles when purling and, in general, makes for more even tension between rows.

Here's a breakdown of how Combination knitting works: 


Western
Eastern
Combination
Knit Stitches
Leading leg in front
Leading leg in back
Leading leg in front
Purl Stitches
Leading leg in front
Leading leg in back
Leading leg in back
Yarn Wrap
Counter-clockwise
(for right-handed)
Clockwise
(for right-handed)
Counter-clockwise for knit (right-handed)
Clockwise for purl (right-handed)
Stitches
Worked through front loop
Worked through back loop
Worked through back loop for knits
Worked through front loop for purls
Twisted Stitches
Worked through back loop
Worked through front loop
Worked through front loop for knits
Worked through back loop for purls
5. Practice!
Practice makes perfect, and, as with anything, perfect knitting is a matter of refining your craft over a long period of time. The vast majority of knitters deal with rowing out, but when you find your own style of knitting that works for your hands and tension, it's a problem that will fix itself in time.
6. Block Your Work
If none of these preventative measures to correct rowing out have worked for you, there is one last-stitch attempt you can make to even out your rows -- a good, old-fashioned blocking! If you're new to blocking, we've got a handy tutorial for you to follow here: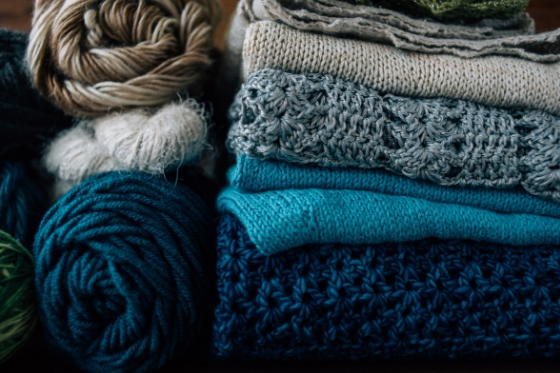 7. Forget About It
One of my first projects was a cable knit afghan that I (very ambitiously) undertook without much experience in refining stockinette. There are still large spots of rowing out on the right side of this afghan that I am very self-conscious about. But no one, not even other knitters -- has noticed it besides me. While rowing out is frustrating, it's important to keep in mind that it's not the end of the world!
Do you have any tips for preventing rowing out?
Let us know in the comments!
Your Recently Viewed Projects