21 Thanksgiving Knitting Patterns
For great knitting applique and amigurumi patterns that you'll be thankful for, check out these crafts below!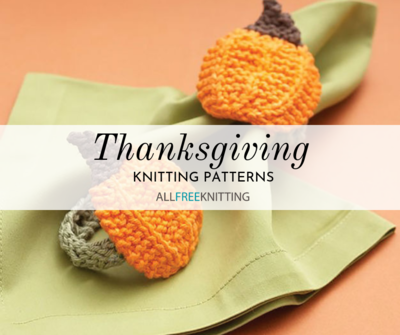 Growing up, there were few things I enjoyed more than going to my aunt's house and getting together with my family. With the exception of Christmas, Thanksgiving was the one time during the year where distant cousins, aunts and uncles, and grandmas and grandpas would all come together to share a meal and some stories.

While the food was always delicious, it wasn't just that which made the holiday special it was the whole experience the food, the family, and the fun decorations. Now that I'm older and plan to host my own Thanksgiving gatherings, I want to be able to recreate those special memories that my aunt made for me so effortlessly. Thankfully, there are so many great knitting patterns out there to help make your Thanksgiving special.
Table of Contents
Thanksgiving Decor Patterns
The key to having a cozy, comfortable Thanksgiving is all about the homey touches. A DIY Thanksgiving is always so much better and more memorable than one that is store bought. Snuggling up with a handmade knit afghan is a lot cozier than one from Crate & Barrel.
Patterns for the Thanksgiving Table
What's more important about Thanksgiving than the food? Some would argue nothing! For my family, Thanksgiving has always been about absolute comfort. If you feel like taking off your belt at the dinner table, go for it. If you just can't seem to get out of those sweats—leave them on. There's no judgment at the dinner table. Thanksgiving is about being grateful for things that bring us comfort. Check out these knitted placemats patterns, free knitted table runners, and knit dishcloths to bring your knitting to the Thanksgiving table.
Thanksgiving Turkey Patterns
Can you think of any cuter addition to your Thanksgiving than with a knitted turkey? These feathered (or not-so-feathered) patterns are sure to delight both child and adult.
Fall tends to have warmer days and cooler ones, so try knitting a few different types of scarves for this season. With warm browns and reds, these scarves are begging to be knit: 40+ Free Scarf Knitting Patterns
Your Recently Viewed Projects