10 Free Thanksgiving Knitted Dishcloth Patterns
These free knit dishcloths will get you in the spirit to gobble up some turkey... get it?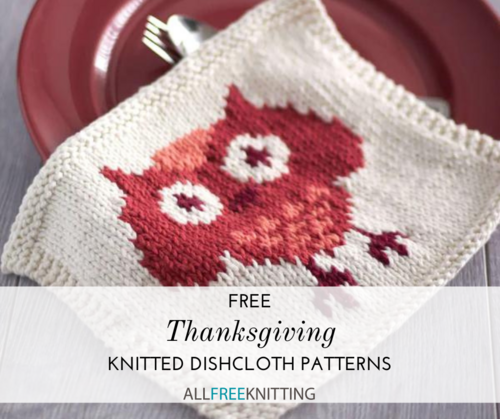 'Tis the season... and by that, we mean turkey season! It seems like Christmas always gets the spotlight around this time of year, but it's so important that we take the time to celebrate this great country and what we're thankful for. Personally, I'm thankful for knitting... and I know I'm not the only one. I love to deck the kitchen out in free Thanksgiving knitted dishcloth patterns every year, so why not share the best of the best?

These free Thanksgiving dishcloth patterns are also great hostess gifts if you're not the one taking care of Thanksgiving this year. After all, the hostess is doing the mostest (work), so why not reward her for all the time and energy?

Without further ado, read on for my favorite Thanksgiving dishcloth patterns!

Sign up for our newsletter for more amazing patterns!
1. Festive Owl Dishcloth
If you can follow a colorwork chart, you'll have no problem with this dishcloth pattern. With earthy red tones and a festive autumnal feel, this cute little owl pattern is the best Thanksgiving cooking companion.

Get the Pattern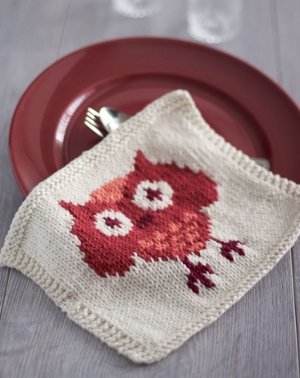 2. Thanksgiving Touchdown Dance Dishcloth Pattern
It's true: I didn't forget about all you football fanatics out there. It's not my thing, but my family is obsessed and it's just not Thanksgiving without football. This dishcloth might actually make your sports-crazy partner help you clean up afterward, too...

Get the Pattern
3. Pumpking Dishcloth
Thanksgiving knitting just has to include pumpkins. I don't make the rules. Feel free to use this as a hotpad underneath the pumpkin pie you are legally obligated to serve at the end of the meal. Again, I don't make the rules.

Get the Pattern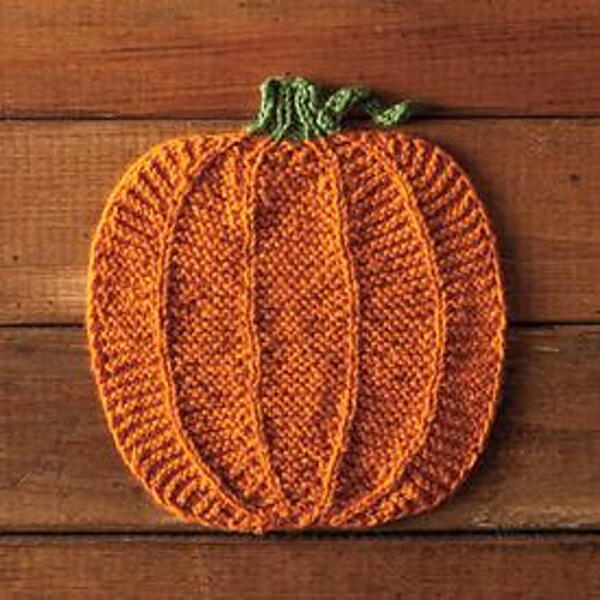 4. I Don't Give a Hoot Dishcloth
Maybe this owl has seen some unspeakable stuff, but owls are autumnal and he belongs on this list. There's also the fact that his color scheme is just perfect for any kitchen decked out for Thanksgiving. Just don't stare too long into his eyes, or they might stare back.

Get the Pattern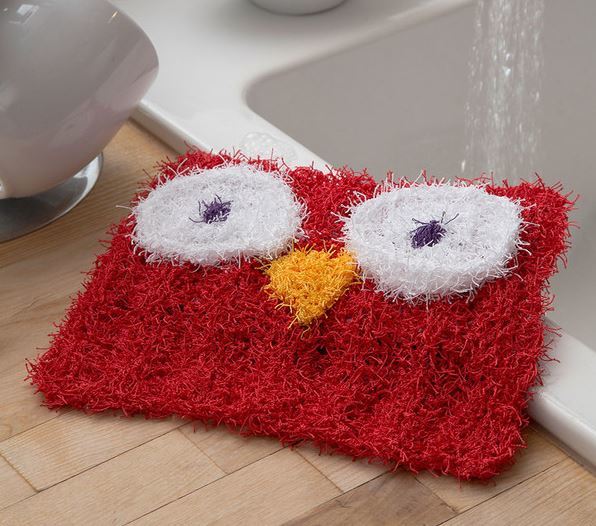 5. Gobble! Cloth
I bet you were wondering how much longer until we saw an actual turkey! Well, don't lose your feathers over it. This dishcloth is made using a simple knit-and-purl chart, so even the freshest of beginners can figure it out.

Get the Pattern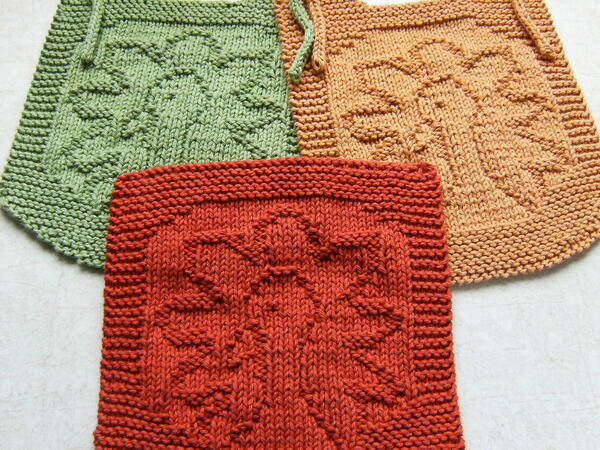 6. Leafy Washcloth
Thanksgiving dishrags don't all have to be cute characters and food. They can just represent the changing of the seasons, as well! At this point, we're deep into autumn and celebrating the season, so we may as well enjoy the changing leaves while they last... even if it's just on our kitchen countertops.

Get the Pattern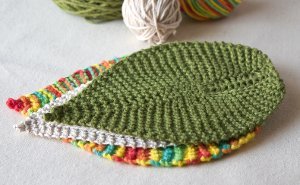 7. Turkey Leg Dishcloth
It doesn't get more classic than this. For a quick and easy free Thanksgiving dishcloth pattern, nothing beats the Turkey Leg Dishcloth. As a bonus, you can even reuse it at your post-Renaissance-Faire-party... if that's a thing that people even do.

Get the Pattern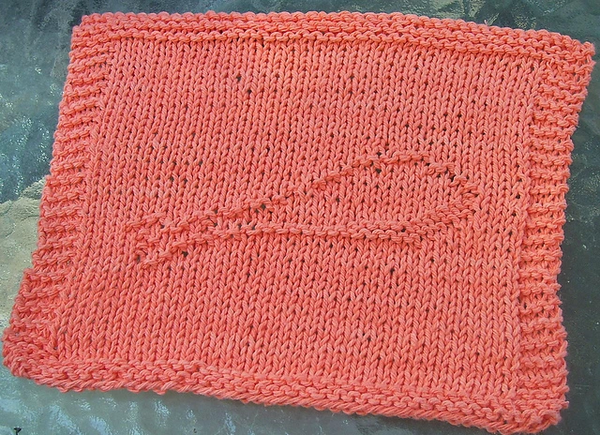 8. Knit Maple Leaves
I hear you shouting from all the way over here, "More leaves!" Don't worry; I have your back. These little guys are great miniature scrubbies for hard-to-scrape dried food, but they also make adorable little coasters if you feel like knitting one up for everyone from Grandma Karen to your first cousins once removed.

Get the Pattern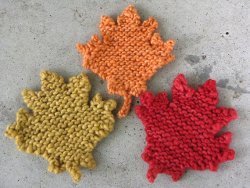 9. Sly Fox Scrubby
I have a soft spot for this little guy. Made using scrubby yarn, he's not only adorably classic in his autumnal vibes, but he actually cleans dishes pretty well. I have two of these: one red and one black, and I almost exclusively use them around Thanksgiving time.

Get the Pattern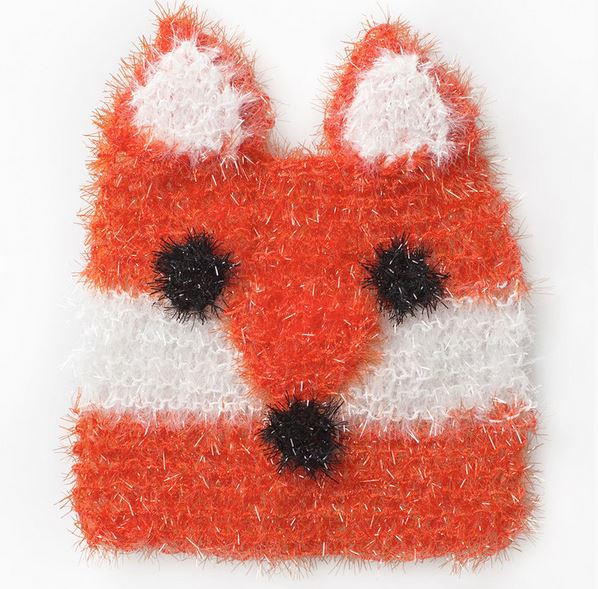 10. Pumpkin Dishcloth
If you're thinking this far ahead to Thanksgiving, you probably also have Halloween in mind. Luckily, this bad boy is a two-for-one. Another easy knit-and-purl dishcloth, just about any skill level can manage it.

Get the Pattern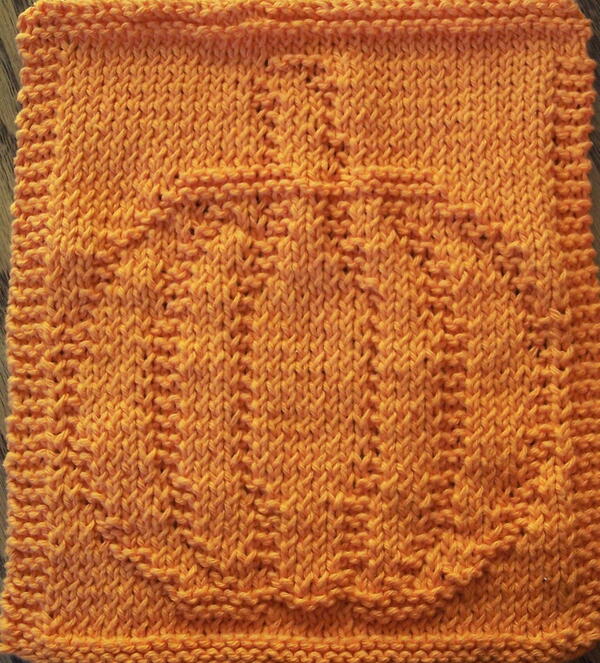 What's your favorite part about Thanksgiving dinner?
Your Recently Viewed Projects