Circular Knitting Needles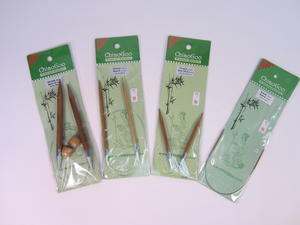 Circular Knitting Needles
Gifted by: ChiaoGoo
www.chiaogoo.com
Reviewed by Christine Weiher, Editor, AllFreeKnitting.com


ChiaoGoo is a new company in my eyes that came to me by surprise. Even though I don't have much time to knit or crochet, or even have time to play around with new products, I have realized that many knitters and crocheters absolutely love ChiaoGoo products. The Circular Knitting Needles are amazing because they come in so many different sizes and materials.

The bamboo collection of circular needles are great. The nine inch circular needles have fantastic joins and pliable clear, nylon cables. They have nickel-plated, copper join. The 16 inch, 20 inch and 24 inch bamboo circulars also have clear nylon cables and nickel-plated, copper join. Sizes three and larger are crimped to guarantee no separation and they swivel, which is really convenient. Sizes zero through 2.5 have the same memory-free cables as the Red circulars and Twist cables.

Each needle has the size permanently laser imprinted, so there's no confusing sizes. All the Bamboo circulars are only available in the pantina color, which is a fabulous and classic look.

Circular knitting needles are great for stitch handling. The cord is easy to work with, the join is slick, and allows stitches to move off the cord and back up onto the needles without snagging or tugging. The price of ChiaoGoo circular needles is affordable, so you can get every size you need. Every knitter is sure to love these needles!
Your Recently Viewed Projects