10 Free Knitted Bag Patterns for Beginners
Knitting bags is the perfect activity for spring and summer.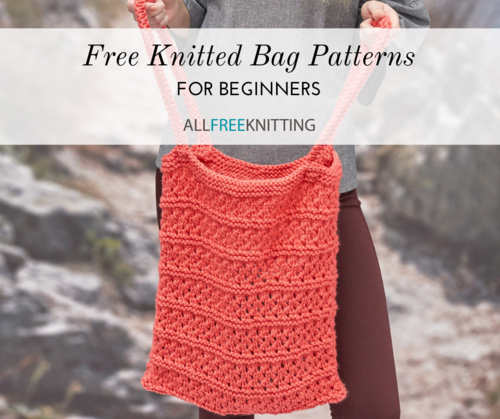 In the warmer months, it's common to see interest in knitting wane a little bit. As fun as it is to knit cozy scarves and big, chunky sweaters, it's just hard to get excited about a hobby that seems so warm by nature when you're sweating your tuchus off and can hardly be bothered to wear a shirt, let alone a cardigan. It took me a few years to really believe this, but there's actually so much you can knit and still use when it's hot outside.

From dishcloths to wall hangings, from beer cozies to beach cover ups, from amigurumi to pillows, there is so much more to knitting than just sweaters and scarves. My favorite spring and summer knit is a bag, because without all of the bulky winter clothing, it's easier to show off a fashionable purse or backpack. Since the idea of knitting a bag can be intimidating (straps, zippers, buttons, shaping... it's all quite a lot), I thought I'd throw together this list of 10 free knitted bag patterns for beginners. After all, if beginners can knit them, anyone can!

If you're not much of a purse person, there are a ton of other uses for knit bags. You could make your own knitting bag to keep in your other projects and supplies, or learn how to knit a bag for the farmer's market to carry all of your fresh produce in a sustainable way. Jump into this list with an open mind and see what all you can make!

Sign up for our free email newsletter for more amazing patterns!
Your Recently Viewed Projects