21 Free Sock Knitting Patterns
Check out these easy knit sock patterns to add a special cozy touch to all your outfits.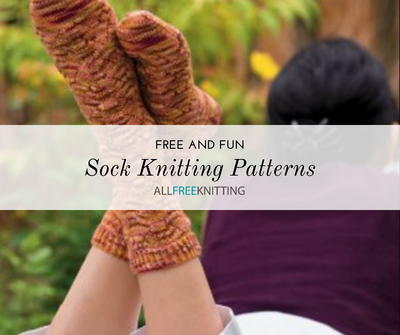 Looking for the knitted accessory you simply must have in your wardrobe? Well, look no further. These trendy knitted sock patterns are everything you need to both teach you how to knit socks and keep you looking absolutely fabulous.

Knit socks are the timeless knits that know no boundaries. They keep your feet wrapped in warmth and comfort all year long. If you're anything like me when it comes to losing one (or both) socks in a matching set, then you know that there's simply no such thing as having too many in your possession. Let your beautiful personality shine through and learn how to knit socks today that are sure to add a special kick to all of your outfits.

Whether you're just a beginner knitter learning how to knit socks or a more advanced knitter looking for some of the latest must-have knitted accessories to add to your collection, we have just the knitted sock patterns for you right here. With this easy knit sock pattern collection, you'll have enough pairs to keep your needles occupied for a long time. That's not all. We've also included some of our best knitted slipper patterns to keep your feet protected and warm around the house.

Find out how to knit socks for yourself, or take on the task of making knitted socks for the whole family. Whichever you choose, these knitted delights will be the trendy and comfortable accessories you'll just love to wear again and again.

For more great projects like this, subscribe to our free email newsletter!
Table of Contents
Easy Sock Knitting Patterns
It doesn't take much to learn how to knit socks. Here's the proof. Make absolutely amazing knitted socks for you and your friends in no time at all with these easy knitted sock patterns. Each of these patterns will walk you through the process, allowing you to learn and succeed along the way. Pick your favorite sock colors (there are so many!), and get started on these fun patterns. Your feet will thank you!
Free knitting patterns don't have to be complicated. Take this Basic Sock Knitting Pattern, for instance. If you've always wanted to try sock knitting, this easy pattern is a great one to start with.

Get This Pattern
Lounging around the house is best done in a pair of hand knit socks. You won't want to take the Lazy Day Knit Socks off of your feet once you put them on.

Get This Pattern
These Lovely Lace Socks are a great project to make for yourself or for a loved one. All free knitting patterns are great but this one especially!

Get This Pattern
Sock Knitting Patterns for the Whole Family
Knitting for the family has never been easier. These knitted sock patterns are great for everyone in the house from baby all the way to that guy it's always hard to knit for. It could be fun to have some matching family socks. Wouldn't that be a cute family photo? The possibilities are endless with these great knit sock patterns.
Knitted Slipper Patterns
Get ready to slip and slide around the house in style with these knitted slipper patterns. Slippers are the best to have around for those chilly mornings when the hardwood floor is icy against your feet. No more! These slipper patterns will hug your feet and give them tons of warmth. Plus, some of them are so quick, it won't be long before the entire family is sporting these trendy knits.
Your Recently Viewed Projects