19 Knit Lace Shawl Patterns
These knit lace shawl patterns are a great introduction to the world of lace knitting!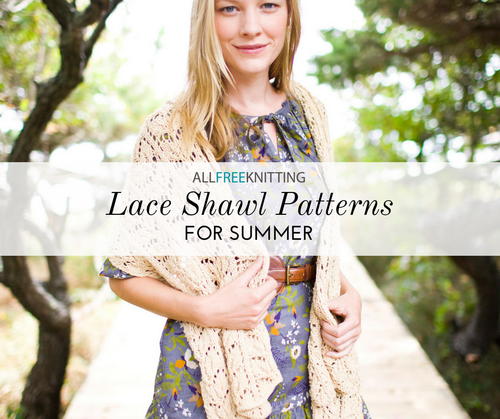 The warm days of spring and summer don't have to be knitting free—on the contrary, the summer is the perfect time to try out patterns using lighter yarns.

Knit shawl patterns are perfect for the summer knitter. The finished product is a light, airy garment that can be worn on an evening out or a windy day. You'll look wonderfully cool with a lace shawl draped gracefully over your shoulder; you won't stop receiving compliments for your handiwork.

Lace knitting patterns are great for summer knitting because of the open work, but they have a bit of a reputation for being too advanced for some knitters. But that's not the case for some of these shawl patterns; while there are plenty of shawls here for knitters who want a bit of a challenge, even beginners can pick up some of these patterns with ease. Still not convinced? Check out our collection of lace scarf knitting patterns to get your needles wet in the world of knitting lace.

Once you take a look at these patterns, you won't think that shawls belong in the wardrobe of days gone by. Shawls are actually quite useful garments; they can be easily folded and stored in a bag, they allow excellent air circulation, and they keep you warm and toasty when it matters most. As soon as you make your own lace knit shawl, you'll become a convert.

For more great projects like this, subscribe to our free email newsletter!
Have you attempted a shawl pattern?
Let us know your tips and tricks in the comments below!
Your Recently Viewed Projects