15 Baby Blanket (Super Bulky Yarn) Knit Patterns
These free knitting patterns for super bulky yarns are as cuddly and squishy as baby could ask for... if baby COULD ask.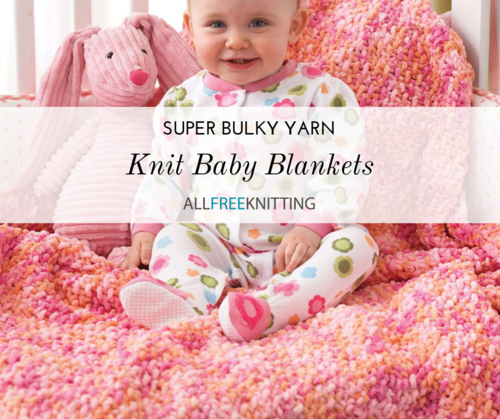 If you have a child or grandchild on the way, you already know that knitting for baby is one of the most exciting and rewarding parts of the nine-month waiting period. Whether it's a bouncing baby boy or a sweet baby girl on the way, these easy knitted baby afghan patterns are your ticket to the comfiest, happiest little bundle of joy in the world - at least until they get hungry. These baby blanket (super bulky yarn) knit patterns might be the last easy things in your life for a while!

We know as an expecting mother, you have a lot on your plate. If you've already taken care of the little baby hats, booties, and sweaters, then you still have the knit baby blankets to worry about. We've taken all the worrying out of the equation, because each of these are all super chunky knit blanket patterns, which works up quick and painlessly. Free bulky knitted baby blankets that look this good shouldn't take so little work, but you're in luck. If you know any other mommies-to-be, be sure to show them this list - or better yet, knit them one of these easy afghan patterns yourself as a baby shower gift.

Sign up for our free email newsletter for more amazing patterns!

Take a look at our favorite baby blanket (super bulky yarn) knit patterns below, and don't forget to tell us your favorite use for super bulky yarn in the comments!

P.S. If you're more interested in bulky yarn rather than super bulky yarn, just scroll down to the bottom for a BONUS list of 5 free bulky knitted baby blankets!
Your Recently Viewed Projects