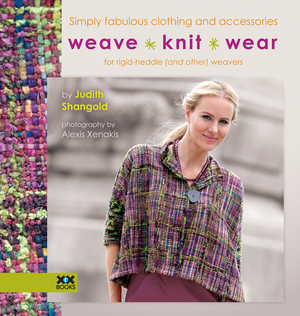 Weave, Knit, Wear
Gifted by: XRX Books
www.knittinguniverse.com
Reviewed by: Christine Weiher, Editor, AllFreeKnitting.com


Weave, Knit, Wear is the perfect book for anyone looking to update their wardrobe. Inside this book from XRX books, you will find fabulous clothing and accessories, perfect for knitters. Author Judith Shangold combines her love of knitting and weaving skills with flair for textiles and interest in fashion.

Inside this designer book you'll find 30 knitting patterns ranging from smaller knitting patterns such as a boa, to larger patterns like the 55" wide serape. The author uses simple shapes that reflect current fashion and combines them with the long tradition of ethnic garments created from strips of handwoven fabric; this book is simply full of one-of-a-kind designs you'll want to get your hands on.

If you're new to the weaving world the patterns in this book might seem intimidating, but don't let that stop you. The book offers a guide to the basics of weaving, along with hand-sewing and knitting techniques that will help you come up with your new creations.

The Mad Plaid Jacket on page 17 is perfect for any fashionista. The plaid design isn't too overwhelming and the fibers woven with the colors chosen are brilliant. The jacket is great for wearing to the office, but can also be dressed up for a night out. The step-by-step instructions make it an easy pattern to make yourself.

If you are a knitter yourself or know someone who is then this is the book you'll want to have in your collection. Dive into just one of your favorites or take a stab at making them all if you're feeling adventurous; you won't regret it!
Your Recently Viewed Projects