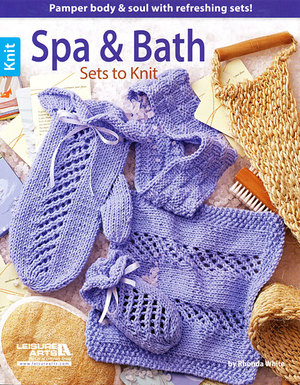 Spa & Bath Sets to Knit
Gifted by: Leisure Arts
www.leisurearts.com
Reviewed by Natasha Price for AllFreeKnitting.com
Leisure Arts has been publishing needlecraft instruction booklets for more than 40 years. They are no strangers to creative, homemade projects. Their recent publication, Spa & Bath Sets to Knit, is akin to the classic Leisure Arts booklets you might find at a thrift store. The patterns are a tad old fashioned. But once they're on your needles you'll realize they never go out of style.
This no-frills booklet contains patterns for a bath mitt, facecloth, headband and soap sack (which I have yet to understand its purpose). There are five different styles included, each with a unique matching stitch pattern. The patterns range from beginner to easy, making them a perfect project for novice knitters interested in giving useful, handmade gifts.
The patterns all look like something you'd find at a senior center crafts bazaar, and I decided the only way for me to get beyond this frame of mind was to actually knit one of them. I decided on the Tranquility Washcloth, which features a lovely lattice stitch pattern. The booklet recommends the time-honored Lily Sugar 'n Cream cotton yarns, which are inexpensive and found at most craft stores. I found the pattern to be easy, quick and fun. Wrap a bar of French soap with this face cloth, tie it with a pretty bow and you'd have yourself a great small gift. Take it a step further and knit up a basket weave headband, which comes together in no time. Have single mitten syndrome? I always find myself disheartened when I finish a mitten because I know I have to start all over and make another one. This project solves my problem as I only need to make one! The mitt lacks shaping, but weave a gross grain ribbon around the cuff and it dresses up nicely.
There's definitely room for creativity with Spa & Bath Sets to Knit that there's no reason to dwell on its antiquated nature. Stray from the classic pastels featured in the booklet. Jazz it up with a variegated or brightly colored yarn. No matter what colors you go with, these easy bath sets will make you feel pampered and luxurious.
Your Recently Viewed Projects