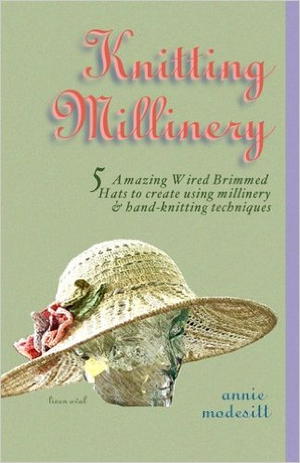 Knitting Millinery
Gifted by: Cooperative Press
www.modeknit.com
Reviewed by Madison Bowes, Editor, AllFreeKnitting.com
Annie Modesitt's knitting techniques are far from traditional. A self-named "heretic knitter", Modesitt believes in knitting how you want, and does not believe there is a wrong way to work up a project. As a former theatrical milliner, Modesitt created Knitting Millinery to share her talents in the trade. With five beautiful hats to work up, this book will keep your hands busy.
I am way too used to seeing the same old knit beanies and slouchy hats every year. The patterns are simple, and they're easy to work up, but one person can have only so many of the same hat. Modesitt's hats are a welcome change in my own routine, and her gorgeous, lacy, summer-style hats will be a fun challenge. She teaches you not only how to work them up, but also how to block and wire them to keep those pretty brims standing straight. Lacy hats like these are fairly expensive in stores, so her book will help you learn new techniques while saving you money you can spend on beautiful yarn.
This book is self-published, and because of that, lacks the polish of a professionally printed and bound book. If you are a beginner and need clear, crisp photos to help you follow along, this book may not be for you. However, if you are of an intermediate skill level and want a challenge to refresh your knitting, this book should be on your wish list. Following along with Modesitt's charts and instructions will be easy for you, and because she writes like she is talking to a friend, you will never find yourself in a section that feels "dumbed down" or drawn out.
Your Recently Viewed Projects