Fun and Fantastical Slippers to Knit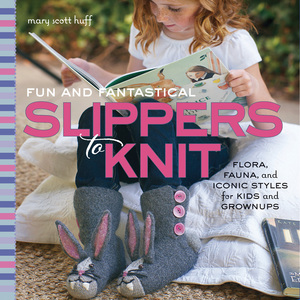 Fun and Fantastical Slippers to Knit
Gifted by Creative Publishing International
creativepub.com
Reviewed by Molly Fletcher, Editor, AllFreeKnitting.com

BONUS! Enter to win a copy of this book! Giveaway ends 5/31/15

Knit treats for your feet with the help of Fun and Fantastical Slippers to Knit. This collection of twenty patterns has something for everyone. Whether you define your taste as classic, quirky, or cute, there is a project to suit you. Choose from traditional fashions (great for grown-ups) and inventive styles inspired by the natural world. This book is full of charming patterns that will entertain you and your loved ones year after year.

Fun and Fantastical Slippers to Knit is a follow-up to author Mary Scott Huff's Fantastical Hats to Knit. As was the case with her first book, Huff's aesthetic is marked by nostalgia in the best sense of the word. A former theatrical costume designer, Huff has an eye for color and character. Today she uses her talents as an author, designer, and teacher to inspire knitters across the country to think outside the box.

Whiskers, tails, googly eyes, and over-the-top ears are a few of the features you'll find in Fun and Fantastical Slippers to Knit. Not only will these creative designs put a smile on your face–they'll also keep your toes warm and toasty! Knit a pair of Foxy slippers for the animal lover in your life. Got a green thumb? Flower Garden slippers are the footwear for you. Designs may vary from old-fashioned to wildly original, but all of these slippers are outrageously comfortable.

Take yourself back to the days when you could spend hours playing dress up. These slippers can complete a panda bear costume, a jester outfit, or even a veggie inspired get up. With these clever ideas, you can give run-of-the-mill pajama sets a fun twist. Use bulky yarn and needle felting techniques for added comfort on any of the projects in this book. With a mix of conventional, adorable, and unbelievable slippers, Fun and Fantastical Slippers to Knit can outfit your whole family.

BONUS! Enter to win a copy of Fun and Fantastical Slippers to Knit here! Contest ends 5/31/15.
Your Recently Viewed Projects