PostStitch Subscription Box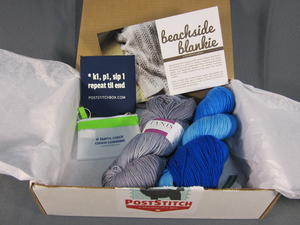 PostStitch Subscription Box
Gifted by: PostStitch
www.poststitchbox.com
Reviewed by Christine Weiher, Editor, AllFreeKnitting.com

I was so excited to get my PostStitch subscription box for review! I originally thought I was just going to get this super cute Emoji Knitting Tote (and I'll get to that later), but much to my surprise I got more. The PostStitch Subscription Box is one of the greatest ideas out there for knitters. Not only do you not have to leave the house to buy yarn, but all your decisions are made for you! Sometimes I think the toughest thing about working up a knitting pattern is choosing the yarn and color schemes. If you're new to subscription boxes (and I am too), here's how it works:

Choose your monthly subscription between the Big Stitch Subscription, which is $60 a month and includes everything you need to knit one women's garment/accessory, or choose the Sock Stitch Subscription for $40 per month, which includes a printed sock pattern from a notable knitwear designer, premium yarn and special notions. Each subscription box mails at the beginning of every month; the only con about that is that if you subscribe mid-month, you'll have to wait until the beginning of the next month to get your first box, so have patience because it will be well worth it.

When you subscribe you are automatically enrolled in the monthly subscription service. However, if you choose to pay month-to-month, the system will automatically re-bill the account on file. You can manage your subscription at any time if you want to change preferences. Once you receive your box drop everything you're doing and cast on!

What's inside this awesome box? All kinds of goodies! You'll receive a printed knit pattern, the yarn needed to make the pattern, and any notions necessary. In my fun box I also received a little pouch to hold small notions, along with a drink cozy that says k1, p1, sip 1 repeat til end. How cute is that?

Going back to that adorable Emoji Knitting Tote: Emojis are all the rage right now. Some of them I don't even understand, but the ones on this tote are perfect for knitters. From a tangled up emoji, to a drop stitch emoji, to a frogged emoji, you're going to love it.

If you're looking to try something new then try the PostStitch Subscription Box; have projects and materials sent straight to your house for your convenience.
Your Recently Viewed Projects