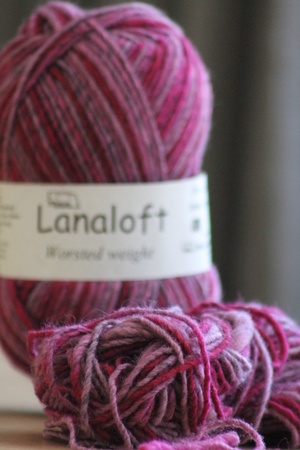 Lanaloft Yarn
Gifted by Brown Sheep Company
brownsheep.com
Reviewed by Gretchen Tracy for AllFreeKnitting.com
If there is such a thing as a basic yarn, it's probably this – worsted weight, 100% wool, and configured in a perfect little center-pull ovoid. Of course, just because the Lanaloft yarn sounds ordinary doesn't mean it is; in fact, based on my experience, I would have to say it's significantly better.
So what makes this yarn special? First, there's the company. Made by Brown Sheep Company, Inc., a family-run mill in Nebraska with over three decades of experience spinning wool, using this fiber gives you the pleasure of knowing that it was made with love (and earth-friendly water, since Brown Sheep recycles up to 90% of the water they use daily). Then, there's the yarn itself. Beautifully dyed and spun to be mostly consistent but with enough texture to keep it interesting, the fiber is easy and enjoyable to knit, even for those of us sensitive to wool. And finally, there's the sheer range of colors you can get it in. The yarn is offered in everything from basics to vibrant variegations, and in such lovely shades that even the company's website can't do the hues justice (at least if my sample of Victorious Violet is any indication).
Which brings us to the knitting experience. In working with most of a skein on the recommended needles, I found the gauge to be true and the yarn to create a dense and attractive fabric. I also only found one wide section and one skinny section in the skein's 160 yards, as well as one break. But, while the consistency wasn't perfect, I was more than satisfied by the short sections of variegation and overall appearance of my finished project. And despite the fact that wool yarns can bother my fingers, I enjoyed my experience knitting the Lanaloft. If you're in the market for worsted weight wool, this is an excellent choice.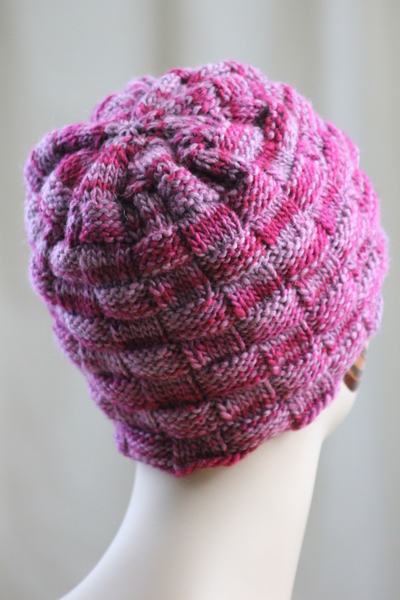 Plus, check out the Beauty of a Basketweave Hat, which is made using just one skein of this yarn!
Your Recently Viewed Projects