ChiaoGoo Double Point Sock Set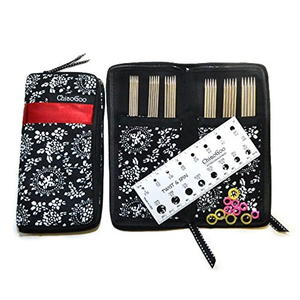 ChiaoGoo Double Point Sock Set
Gifted by: ChiaoGoo
www.chiaogoo.com
Reviewed by Christine Weiher, Editor, AllFreeKnitting.com


It's amazing what you can do with a skein of yarn and a pair of knitting needles. Just by creating loops of yarn you can create an entire masterpiece to show off. To help you work your way through your next piece is the ChiaoGoo Double Point Sock Set.

The stainless steel set, which also comes in bamboo, feature perfectly machined and tapered tips with a smooth satin-sheen finish. The needles measure six inches in length and come in sets of five. Each needle is laser-imprinted with the size, so you can easily grab the correct needle for your project. However, because the needles themselves are so small, it's a bit tough to read the sizes. Perhaps going over it with a thin marker might help it stand out a bit more.

This specific set comes in six double pointed needle sets in US sizes 0, 1, 1.5, 2, 2.5, and 3. What's also neat about this set is that it comes with a needle gauge and stitch markers, so you truly can take this anywhere with you. When you're on the go, this is the perfect set to have on-hand.

The needles provided in this set are great for making knit socks. The tips are pointy enough for intricate lace work, but not too pointy that they would hurt you while working. These glide easily in your hands giving you a top-notch knitting experience. What I like best about this set is the beautiful package it comes in. With a floral print and a satin sash; it's just gorgeous.

The next time you're out and about looking to purchase your next double pointed needles, consider the ChiaoGoo Double Point Sock Set. It's great for traveling and while waiting for appointments; you'll be able to work up your next knit pattern in no time.
Your Recently Viewed Projects