Sweater Curse: Folklore or Fact?
Do you believe in superstitions? Learn all about the boyfriend sweater curse before you consider knitting your beau that cozy pullover.
The Sweater Curse is a well-known part of knitting culture, but do you believe this superstition exists? Let's explore whether the "curse of the love sweater" is fact or fiction.

The general narrative of the superstition follows a simple path: a knitter has a boyfriend she is rather fond of, so she decides to knit him a sweater. Shortly before or after the completion of the sweater, the relationship is terminated.

Although this scenario sounds a bit dramatic, most knitters don't think of the Sweater Curse in supernatural terms. Rather, the supposed curse is rooted in rational explanations.

Read below to learn more about the boyfriend sweater curse and check out what our readers had to say when we asked them whether or not they believe in this knitting superstition. If you want to weigh in, feel free to leave your thoughts in the comment section below.
Table of Contents
Sweater Curse Explained
One of the most popular theories is the highly emotional value of a knitted sweater (sweaters take a lot of time, money, and effort to make) signals the perhaps more serious intentions of the knitter to the boyfriend, resulting in the boyfriend breaking off the relationship.

Other stories describe ungrateful sweater recipients – most of whom are promptly dumped by the knitter as a result.

Another theory is a relationship might simply run its course before the sweater is completed.

In any case, there's a portion of the knitting community who believe the Sweater Curse is something to strongly take into consideration prior to knitting for a boyfriend.

If you're thinking of knitting something for your significant other, you might want to start small and test the waters of your relationship before diving headfirst into a more complex and time-consuming sweater pattern.
How to Avoid the Boyfriend Sweater Curse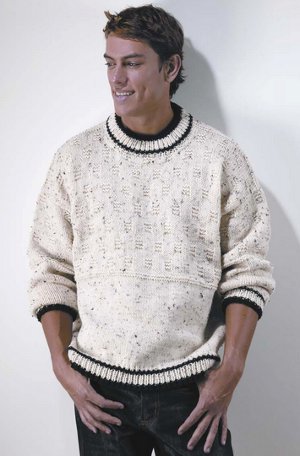 Since knitters knit their love into every stitch, it has been advised to match the knitted gift to the stage in the relationship, beginning with small items such as hats, scarves, mittens, and socks before graduating to more complex sweaters.

Some knitters even choose to wait until marriage before making a sweater for a significant other while others ask their partner to sign a "pre-knitual agreement."

In order to err on the side of caution, before you cast on, ask yourself whether your beau would even wear a hand-knitted sweater. If you know it's not his style from the get-go, you won't risk wasting your precious time, money, and effort.

It's also a good idea to involve your significant other in designing the sweater by asking for their input in terms of the style, colors, and materials. That being said, don't forget the importance of personally enjoying the process since making a sweater is such a large undertaking. You don't want to get bored halfway through and subsequently knit those negative thoughts into your garment.

And, just to be on the safe side, before you grab those knitting needles, make sure the pattern you choose is a great unisex knit. That way, if you and your partner stay together, you can borrow the sweater on occasion. And, if you do part ways, well, at least you're left with a lovely one-of-a-kind sweater!
Readers Weigh In: Do You Believe in the Sweater Curse?
1. "I knitted a sweater for my boyfriend in high school and this year we've been happily married 50 years." - Jill S.

2. "Years ago I had a "friend" that mentioned that he always wanted a Fisherman Knit sweater. I knitted a beauty with loads of cables and detail. I gave it to him for his birthday. The following weekend he called and said that he thought we were getting too serious. I never saw him or the sweater again!" - Elaine C.

3. "Yes, at age 19 I knit my then boyfriend a sweater, I remember it well. When I gave it to him he said, "wow, each stitch knitted with love"...1 month later he dumped me....LOL Needless to say, that was the last time I knitted anyone a sweater until I knit for my first baby." - Suzanne O.

4. "I'm not sure. I started knitting my hubby a cardigan in September and I'm still knitting it. I've made the back, the right front, left front, (2 pockets that weren't in the pattern so I improvised). I'm making the first sleeve. I still need to make the second sleeve, collar and add a zip. It's on 4mm needles. I just hope that he appreciates all the hard work it's taking!" - Joy P.

5. "My grandmother and her sister worked together to make my grandfather a sweater. When it was finished, each sleeve was a different length and the V neck angled sharply to the right. It didn't seem to matter because my grandparents were married over 65 years! One of many family stories they laughed and laughed about." - Laurie F.

6. "I hardly make myself sweaters, I would have to love someone a lot to make them one. So, I wouldn't risk it - it's a great excuse, right?" - Sonia P.

7. "If your time and devotion scared him off then he wasn't worth your time to begin with. A real man does not shy away from love proved but instead welcomes it." - Judy W.

8. "The secret is to never finish the sweater...change a sleeve, add new stitch, etc. Never finished, never gifted, always boyfriend! ( Just my theory of course!)" - Patricia H.

9. "My mother has a corollary to the sweater curse. If the man's mother knits a sweater for his girlfriend she will soon break up with him. This happened to one of my brothers. She wouldn't knit a sweater for my other brother's girlfriend until they were married. She didn't want to jinx the relationship." - Pauline H.

10. "My mom knit my Dad loads of sweaters and they were together from the age of 16 until she passed a few years ago at 61 of cancer." -Melissa F.

11. "I knitted sweaters and a waistcoat for my last boyfriend, they couldn't have been too bad because we're happily married now." - Angela B.

12. "It's true. Twice for me. The second time, I took it with me, frogged it and made it into something else." - Becci R.

13. "Nope, made my now husband an aran cardigan while dating. We've been married 40 years." - Susanne F.

14. "Yes. If you knit a sweater for your boyfriend you will break up. I did and he dumped me." - Lynn S.

15. "Yes. Twice. One sweater I gave to my brother instead and the other was kept by the recipient." - Deirdre C.

16. "I made my fiancee a sweater when we first met 13 years ago.... still together and planning our wedding." -Adina R.
Men's Sweater Knitting Patterns
If you believe in the danger of opening an umbrella indoors or cringe whenever a black cat crosses your path, take our advice and avoid making a love sweater anytime soon.

However, if you balk at superstitions and feel confident in your relationship with your significant other, then by all means, grab those needles and start knitting the sweater of your dreams!

If you're brave enough to challenge the curse, here are some free knit sweater patterns you and your significant other are sure to love.
Do you believe in the Sweater Curse? Why or why not?
Your Recently Viewed Projects