Mad Men Inspired Knits + 13 Vintage Knitting Patterns
Knitters can find inspiration in the world around them, so it's no surprise that popular culture offers up fertile ground for designers. Mad Men in particular has had a huge impact on the stylistic choices of viewers; the vintage look is back stronger than ever, thanks in part to Mad Men. Knitters are by no means immune to this resurgence of the retro look—from creating Mad Men inspired patterns to digging up old vintage knitting patterns, the knitting community has met the challenges of the vintage craze admirably.
Knit vintage patterns are well worth the time and effort, too. Not only do these free knitting patterns have a timeless quality, they are often simple and easy to knit up. The best patterns are, I think, those that will look good for years to come, and these vintage knitting patterns pass that test with flying colors. Cast on one of these great patterns and put in your favorite episode of Mad Men for a knitting experience that will be both rewarding and enjoyable.


Mad Men Inspired Knits + 13 Vintage Knitting Patterns
It's unsurprising that the critically acclaimed show Mad Men would spawn patterns based off of the chic retro stylings of the cast. Because, let's be real here, some of those costumes are stunning. These Mad Men inspired patterns will have you looking your retro best. Drawing inspiration from your favorite characters like Betty and Joan (or at least your favorite wardrobes), these knit sweater patterns will be a blast to knit. Experiment with a new style or pick a pattern that flatters you, either way these patterns have just enough of a modern twist to make them attractive in any setting. Grab a free knitting pattern and warm up your fingers for these great projects.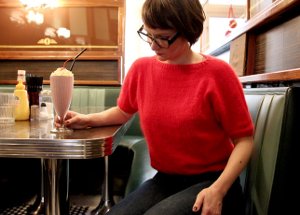 Betty Sweater

Mad Men Joanie Sweater

Mad Men Mittens

Jackie-O Tee

It's easy to forget about the old patterns you have tucked away in books or boxes at the back of your closet, but with the return of the retro look, those old patterns have found new worth. These knit vintage patterns have a timeless quality that keeps crafters coming back for more. Vintage knitting patterns are surprisingly versatile as well, from shawls that will look fantastic at work or at a wedding to elegant gloves that will keep your mitts warm; these free knitting patterns are a great investment of time and energy.
Ladies' Mocked Stitch Cable Mittens

Women's Pullover Style No. 126

Textured Retro Mittens

Minuet Shawl

Plaza Shawl

Bluebell Shawl

Country Club Shawl

The vintage look isn't only about clothes; you can use these free knitting patterns to decorate your home as well. Everyone loves a good afghan draped over the back of the couch or across the foot of the bed, and these knit afghan patterns have certainly survived the test of time. Working on one of these vintage knitting patterns is a great way to keep your family warm and give your house a charming vintage look. You're sure to be the envy of the whole neighborhood with these wonderful knit afghan patterns. A little bit of work will pay off big time, since you'll be able to snuggle up in an afghan for years to come.
Bear Claw Throw

Blue and White Afghan

Dutch Tile Afghan

First Outing Afghan

Harlequin Afghan

Rosebud Afghan


Your Recently Viewed Projects