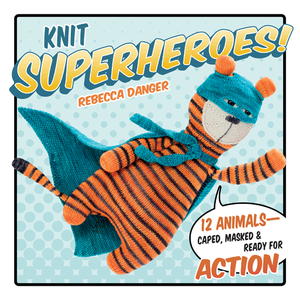 Knit Superheroes!
Gifted by: Martingale
www.martingale-pub.com
Reviewed by Mary Beth Temple for AllFreeKnitting.com
When it comes to knitting creatures – big or small, realistic or fantastic – Rebecca Danger is the designer in the know. She has been designing creatures both great and small since 2009, and her fifth book Knit Superheroes! (Martingale, 2016) has twelve terrific patterns so you can bring your own superhero to life with needles and yarn.
One of the best things about this book – other than the whimsical animals, each with their own costume – is the attention given to each hero's back story! Whether it's Randolph Racoon who's super power is making chocolate bars appear, or Tiberius Tiger who's faith in his own ability to disappear is not quite backed up by fact, you'll be charmed by each super hero's story and details.
There isn't a lot of how-to in this book – the author presumes you are a competent knitter – but there is a good amount of information on how to customize each pattern to your own needs. The size of the finished toy is dependent on what weight yarn and size needle you use, so you can use up stash with impunity – yardage is listed for each color used for each toy so you can tell right away if you'll have enough to complete the project. You can also use Danger's tips to customize your knitting experience, whether you prefer knitting in the round with the Magic Loop Method or prefer to go old school with DPNs; like picking up stitches or knitting parts; or tend to knit tightly or loosely. This book has all the tips you need so you end up with the toy of your dreams, without making yourself crazy getting there!
Your Recently Viewed Projects