Hand Spun: New Spins on Traditional Techniques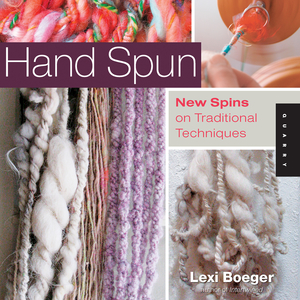 Hand Spun: New Spins on Traditional Techniques
Gifted by Quarry Books
www.quarrybooks.com
Reviewed by Molly Fletcher, Editor, AllFreeKnitting.com

When it comes to a favorite knitted project, the secret's in the yarn. Hand Spun: New Spins on Traditional Techniques by Lexi Boeger will teach you how to create gorgeous yarn for your next knitting project. This beautifully photographed book contains 20 tutorials for scarves, hats, wraps, and home decor. Each design lets the yarn take center stage where it belongs.

Artist and author Lexi Boeger is the founder of pluckyfluff.com, a fiber art forum that features handspinning techniques she develops in her California studio. Though Boeger has made a career from her passion, above all, she wants readers to enjoy the craft. This focus on fun accounts for Boeger's laidback approach to inspiration and instruction.

Hand Spun is a follow-up to Boeger's popular title Intertwined: The Art of Handspun Yarn, Modern Patterns, and Creative Spinning. As was the case in Intertwined, traditional spinning methods get their due in the first section of Hand Spun. In fact, some of the photos and language from Intertwined have been reused in this book. However, each "repeated" section includes further detail than the original iteration, making this book a wonderful resource for knitters of all levels.

The directions are easy to follow, yet flexible enough to encourage experimentation. While this book is not the final word on the craft, Hand Spun is full of brilliant insights that will guide you as you develop your skills and personal style. Learn the ins and outs of fiber preparation (from washing raw fleece to "crazy" carding) and master spinning techniques including Treasure Box, Elastic Twist, Falling Locks, Quick Coils, and many more. Find inspiration for your next pattern by flipping through the Permutations Gallery, and then try your hand at one of the tutorials like the BFF! (Best Friend Fingerless Gloves) or the Webby Wrap.

Add dimension and depth to your knitting projects by creating your own one-of-a-kind yarn. Hand Spun gives you all the tools you need to make patterns exactly as you envision them–down to the color and texture.
Your Recently Viewed Projects