How to Knit for Beginners: 9 Free Tutorials
Bonus: Get our newsletter & special offers for free. We will not share or sell your email address. View our Privacy Policy

Travel Knitting Tips: Knitting Needles on Plane and Much More!
Read on for practical advice and ways to organize yarn when traveling.
By:
Christy Thomas, Editor, AllFreeKnitting.com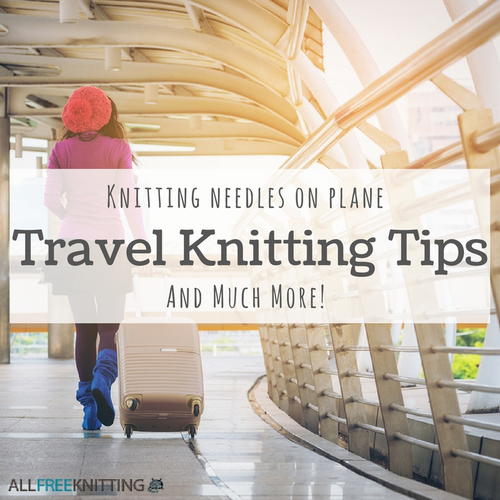 Are you planning on flying to be with family this holiday season? If you're anything like me, chances are you're still not done knitting up those last-minute gifts, which means knitting on a plane is a must. But, also like me, it can be hard to untangle knitting-needle-on-plane regulations and the like.

Or maybe you're headed out on a tropical vacation to escape the cold, and have projects in mind to occupy your hands. Or maybe it's the open road or train track that is calling your name. Those hours of staring-out-the-window time can also be creating time!

Travel Knitting Tips: Knitting Needles on Plane and Much More will give you practical things to think about as you prepare to knit on your next trip, whether going home for a holiday or jetting off to an exotic locale. Hopefully, you will apply at least one of these tips to your travels and make your knitting life much easier. Plus, keeping up with the latest TSA regulations can be a headache, so it's nice to have someone lay it all out for you. 

Also, thanks to Laura Zander from Jimmy Beans Wool, us knitters-on-the-go will get some thrifty tips and tricks from this article. Read on for Laura's great ideas, and some additional ideas from our Editors for before, during, and after your trip.

Happy knitting, and have a great trip!

What Knitting Projects Should You Pack?
1. Choose easy knitting projects. Pull out those tried and true patterns that you could make in your sleep. The chances that you are interrupted while knitting are much higher when traveling—the person next to you on the plane has to use the bathroom or your bus arrives to the stop early, for two examples. Having patterns that are simple and easy to pick back up when interrupted are key. Check out this collection of On-The-Go Easy Knitting Patterns.

2. Bring small projects. Now's not the time to create that massive, king-size blanket pattern for your master bed, as much as that would be lovely. Projects that can pretty easily fit on your lap and don't require tons of skeins of yarn are great. Especially consider making projects with fine or lace weight yarn. That yarn can pack down small, but still give you plenty of length for knitting.

3. Be realistic about what you will finish on your trip. Don't bring 14 projects in various stages of work. Of course, how many projects you bring will depend on how long your trip is, how much time you have for knitting, and how long each project takes, but it would be best to focus on a few projects that will keep you occupied. If you do finish the patterns you bring with you and are desperate for more knitting, you may be able to find a yarn store in your destination to get you working again.
 

Travel Knitting Tips: Before You Leave
1. Download or print out your patterns. This way, if you hit a deadzone or are on a remote island somewhere (lucky!), you can still figure out what to do in Row 3 of your pattern. Here are some great free printable patterns to get you started. 

2. Read over your patterns to make sure you know how to complete every aspect before you leave. Ashley from craftsy.com knows that "there's nothing worse than getting caught on an airplane or train without Wi-Fi to look up a technique or specific stitch."

3. Make sure you have all the supplies you need. Do inventory on your patterns, looking for any tools necessary to complete them, from cable knit needles to stitch markers. In general, it's best to choose patterns with the least number of extra things to pack, but you can't avoid it altogether.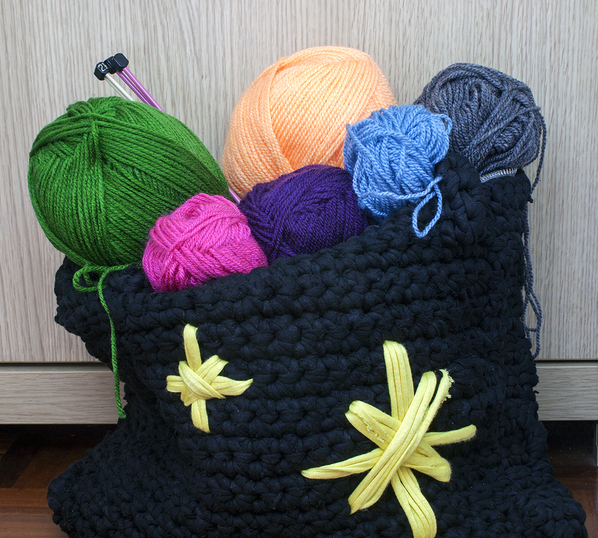 4. Keep your knitting tools in a separate case. To help protect your yarn and make traveling just a bit easier, use an accessory bag to keep your knitting tools organized.  There are tons of bags available, or you can reuse an old make-up bag as a tool case in a pinch. Marie from undergroundcrafter.com recommends creating a special travel kit with your most used tools that you can "drop into your project bag when you pack without having to gather up notions each time."

5. Organize! Keep your knitting in separate project bags, if possible. Yarn has a tendency to tangle if not properly cared for, and throwing all of your projects in one bag is just asking for a big mess. Separating out your projects into multiple bags (you know you won't be leaving the house for an extended vacation without multiple projects) will help keep your suitcase nice and neat. It also means that you can easily grab a particular project without having to unpack and repack your knitting bag. 
 

Knitting Needles on Plane: Yes or No?
Yes, within the United States. 

As of August 2017, TSA allows you to pack knitting needles in both your carry on and checked luggage. They do caution that "any sharp objects in checked bags should be sheathed or securely wrapped to prevent injury to baggage handlers and inspectors," and we would make the same recommendation for packing in your carry on, just in case you are questioned. The TSA officers will appreciate you taking care in packing your needles.

TSA also allows small scissors in your carry on, giving the warning that "they must be less than 4 inches from the pivot point." These will come in handy when working on a project with multiple colors or when completing a project.

But, it's always best to play it safe. Rather than metal needles, bring needles that are plastic or wooden, since they are less likely to be questioned. Use needle point protectors, both for getting through security and for keeping your needles in good shape. Bring small scissors with blunt tips, rather than really sharp ones. And always be respectful of those working security at the airport.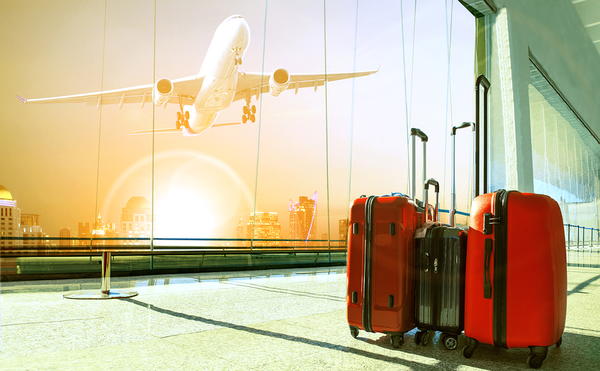 If you are still uncertain or had a bad experience once when knitting needles weren't allowed, you can always thread a piece of yarn through your stitches so that your work is still intact even if your needles are confiscated. 

It's also good to always check the TSA guidelines. As any frequent traveler will tell you, the TSA guidelines change almost as often as the seasons. Staying up to date on the latest rules will ensure that your prized pair of scissors or yarn cutter won't have to be left with security.

To check the current TSA guidelines, check out this link for sharp objects like knitting needles and scissors and this link for other checked and carry on items. 

The regulations for what you can and cannot bring on a flight are based on the country you are flying from, and many countries do not allow knitting needles on flights. If you plan to travel outside of the United States, you will need to check the regulations for both the country you are leaving and the country you are going to. In order to get home, you will need to follow that country's regulations for knitting needles, so it is important to know whether or not they will be confiscated. You do not want to get delayed coming home, or worse, because of your knitting needles. 

In order to check the regulations for another country, simply search "(country) prohibited items on flight," then see if knitting needles make the list. It would also be worth checking with the specific airline you are flying, since there may be special rules. 
 

Travel Knitting Tips: While You're There
1. Keep a notebook with you while you knit. You never know when you might deviate from a pattern to make it what you want. It helps to have record of changes you make so next time you can replicate it. It is also helpful to record where you left off in a pattern, instead of relying on your vacation brain. This notebook tip can be used for more than just traveling—it's always good to know how you might have tweaked a pattern.

2. Use circular needles, especially when knitting in small spaces. You can knit any pattern on circular needles, whether or knitting in the round or not, and you won't have to worry about dropping one needle into the abyss of the plane, bus, car, or train floor. Circulars also limit your range of motion, so you won't be elbowing your seatmates as much. They will definitely appreciate that! 

3. Keep your organization in place. It can be easy to have good intentions, then let everything fall apart when you're on-the-go. It will do no good to have all of your projects tangling up or losing stitches along the way, so keep your system going. Plan on only taking one project out at a time, and always finish a row before putting it back in its bag. 

4. Go to a yarn store in your destination. You can learn a lot about a place from locals, and you can get souvenir yarn that will help you remember your trip every time you use what you make with it. Plus, who doesn't love browsing beautiful rows of stacked yarn??
 

Travel Knitting Tips: When You Get Home
1. Start using your finished projects! Depending on how long you were gone and how time-intensive your projects were, you may have completed one or two. Don't let them sit unused. Unless they're a knitted gift. Then maybe it's best to get them wrapped up and ready to go, instead.

2. Pull out your in-progress projects to look them over. Check for any mistakes you might have made when you were in vacation brain. You may have no goof-ups, but it's always a good idea to check anyway. It is much better to catch a mistake now than after you keep working. If you do find a mistake, learn how to fix knitting mistakes with this article!

3. Dream up new and fantastic projects. Just because you're back from vacation doesn't mean you can't squeeze knitting time into your life. There are many health benefits of knitting, which means we all have to keep buying yarn and creating, right?
 

Travel Knitting Tips from an Expert Knitter
Traveling season is upon us, and I've just spent some time reviewing the TSA regulations before I hop on the plane! We knitters are a creative bunch, so I've compiled a list of my favorite tips for working around those regulations so that I can finish all my holiday projects on time!
Forgot your point protector? Use the cork from last night's bottle of Merlot!
Need a handy container for your DPNs? I like to use a traveling toothbrush holder! I find the ones with the smallest drainage hole, and you can find them for little money at most places (Just double check for length!).  You can toss the container in you knitting basket/bag when not in use and they come in many colors if you have multiple sets (like a lot of us have!)
Last year I left home without my cable needle! Doh! I used a pen to hold the stitches and it worked great!
      We hope you have safe and happy travels this holiday season.
       Best wishes,
            Laura,
jimmybeanswool.com
What will you be knitting on your next trip?
Tags / Related Topics
Your Recently Viewed Projects
Images from other crafters

Free projects, giveaways, exclusive partner offers, and more straight to your inbox!
Project of the Day
Let your favorite newborn enter the world in style with this Lace Knit Premature Baby Set. If you're new to lace knitting, then these… See more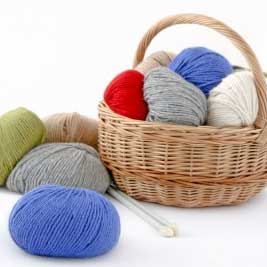 Something worth saving?
SAVE all your favorite patterns
ADD personal notes
QUICKLY reference your patterns