Is it Easier to Learn to Knit or Crochet?
If you want to either learn to knit or crochet, let us help you make an informed decision.
Updated October 10, 2022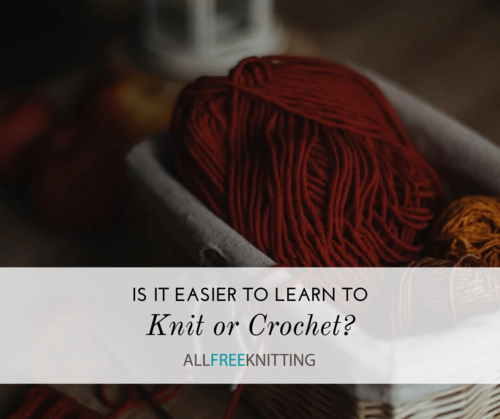 Here at AllFreeKnitting, we'll always celebrate someone's interest in learning how to knit, but there's no denying the fact that crocheting is an exceptionally popular hobby, and people typically weigh their options between knitting and crocheting before deciding which yarny pasttime to dive into. While the layman can't typically tell knit fabric from crochet, there's actually a discernible difference in the finished product, and an even bigger difference in the process that leads you to it.

The real question for most beginners is "is it easier to learn to knit or crochet?" and the answer, as always, is "it's complicated." It's a common misconception that crocheting is easier than knitting because you're only working with one hook as opposed to two needles. Everyone has different preferences when it comes to range of motion, everyone has different mentors surrounding them with different experiences with both hobbies, and everyone has a different goal when it comes to learning a new craft. In this article, I'll help you understand the difference between crochet and knitting as a beginner and which you should dive into.

Sign up for our free email newsletter for more amazing patterns!
Knitting vs. Crocheting: Which is Easier?
This is often the first question beginners ask before deciding which hobby to learn. Everything depends upon perspective.

Personally, I found knitting much easier to learn from the outset—all of the stitches you're working with, typically, can be found on your needles, so it's easy to keep track of where you are in your pattern and count how many stitches you have to confirm that you're on-track. This kind of thing can be attractive to beginners, who are much more likely to make mistakes. It can be a lot harder for fiber newbies to tell if they've messed up with crocheting until it's too late.

That said, most of my crocheting friends have the opposite opinion (hence why they consider themselves crocheters)! They claim the ease of handling just one hook vs. two needles makes crochet more accessible to beginners. See The Two-Needle Conundrum below. It's worth noting that all of these friends learned to knit and enjoyed it, too—they just believe crochet is the better introductory hobby of the two.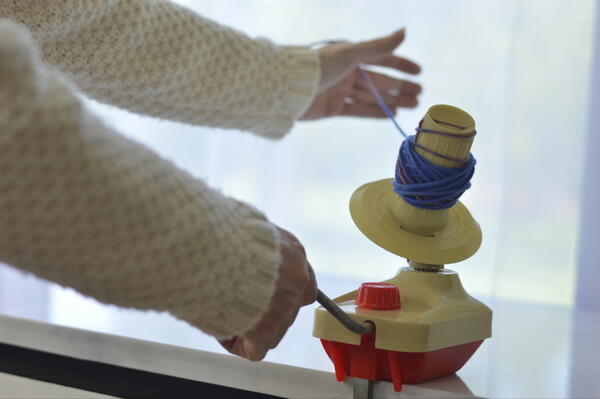 Crochet and Knitting Materials for Beginners
Something else that may factor into your decision-making process here may be the materials you need. Crocheting requires a single hook and yarn, and knitting requires two needles (sold in pairs) and yarn. To begin, that's all you need.

However, if you plan on delving deeper into the hobby, you'll find yourself needing some more supplies. A tapestry needle for weaving in ends, stitch markers for identifying portions of your work on more complicated patterns, and stitch holders are materials that you may need in both knitting and crocheting, but when it comes to the hooks and needles, crocheting only requires hooks of different sizes, with which you can crochet a flat project, or a three-dimensional project of any size. Knitting, however, requires circular needles or double-pointed needles for working in-the-round. Your standard pair of single-pointed knitting needles can only knit flat objects, which you may have to seam up later.

For the sake of argument, you can knit flat on circular needles. However, most beginners will be intimidated by circular needles and so won't begin on them, meaning they'll end up needing to buy them down the line. Ultimately, you're looking at spending slightly more on supplies with knitting in the long run.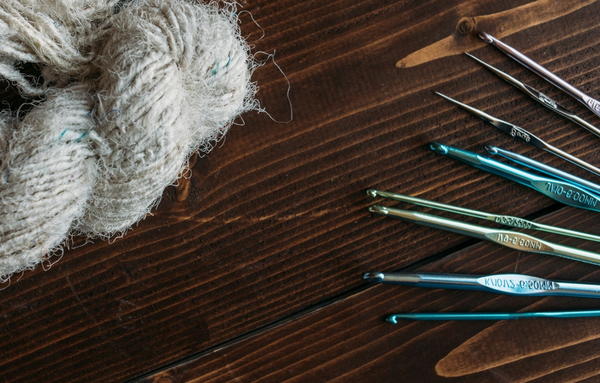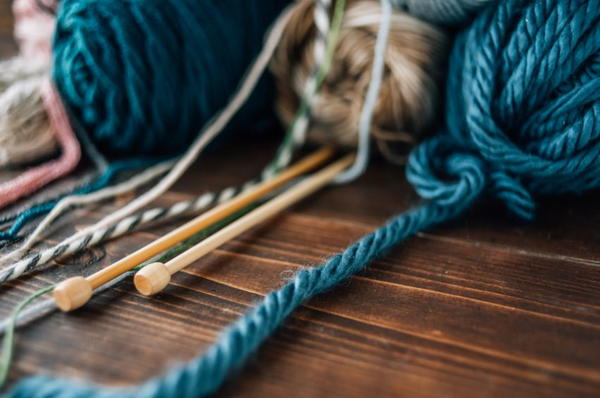 The Difference Between Crochet and Knitting
AllFreeCrochet has a wonderful, yet questionably-titled article, Crochet is Better Than Knitting: Here's Why, that gives a great in-depth overview of the differences between knitting and crochet. I highly recommend checking out that article for everything you need to know when it comes to the great crochet vs. knit debate, but if you're looking for a snapshot, here's the lowdown:

Crochet uses a hook to "knot" yarn together into fabric. Crocheted fabric is often stiffer—while you can crochet anything you can knit and vice-versa, for this reason, crocheting is often better-suited to amigurumi (cute stuffed animals!) and home decor.

Knitting uses two needles to "loop" yarn together into fabric. Knit fabric is often drapier, and better-suited to wearables like sweaters and scarves.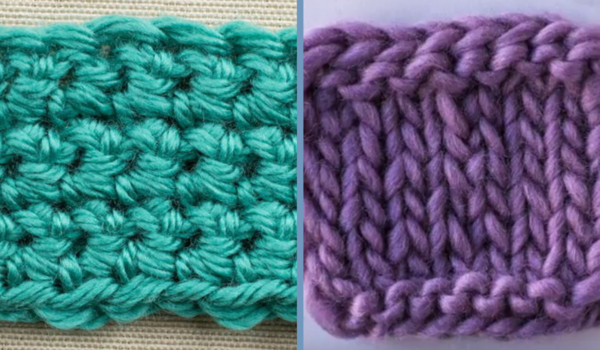 The Two-Needle Conundrum
Beginners often worry about "juggling" two needles with yarn, as crochet using only one hook seems easier to manage. It's a fair concern, but the truth when it comes to beginner knitting is that you're really only using one needle at a time. The other needle is usually just being held still in your non-dominant hand, holding onto stitches for you.

This misconception may actually make your life more difficult. Ultimately, knitting a stitch requires a smaller range of motion than crocheting a single crochet, even though you're holding two needles. Take it from someone who both knits and crochets regularly, and don't be concerned about the fact that there are two needles.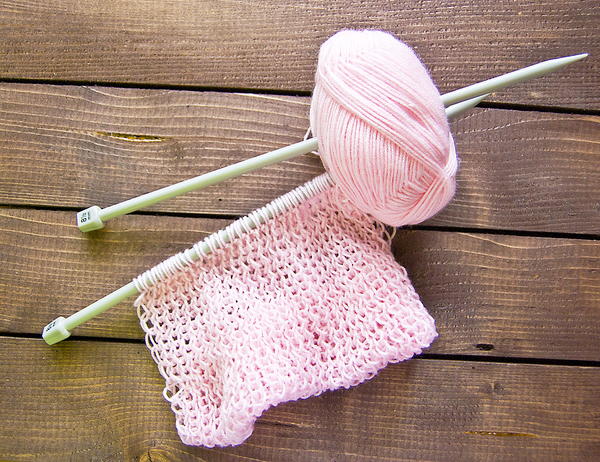 Should I Learn to Knit or Crochet?
Knit, obviously!

I'm kidding. Ultimately, I can't make that decision for you. If you prefer the look of crocheted fabric, and amigurumi gives you heart-eyes, you should learn to crochet. If you prefer the look of knit fabric, and you're interested in creating your own clothing, you should learn to knit. Remember, once again: you can knit amigurumi and crochet clothing! You just might prefer your results more if you crochet certain things and knit certain other things.

My opinion? Learn both! Start with your favorite of the two, but learn the other down the line. Nothing beats the versatility of learning both hobbies. I love being able to browse cute patterns and not worry about whether or not I'll be able to manage them.

Besides, I can guarantee you that once you've gotten into the groove of either knitting or crocheting, you'll be hooked (pun intended) and want to try out the other one, anyway. Yarn crafts are a slippery slope. Make sure you have at least one whole cabinet you can dedicate to all of the yarn you're about to collect.
Up Next:
Learn to Knit With Marly Bird

What are you thinking of learning first: knitting or crocheting? If you already know both, which did you learn first?
Free projects, giveaways, exclusive partner offers, and more straight to your inbox!
Tags / Related Topics
Your Recently Viewed Projects
Images from other crafters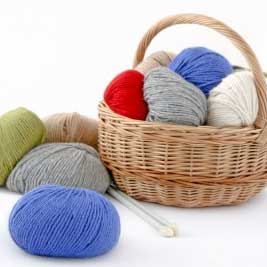 Something worth saving?
SAVE all your favorite patterns
ADD personal notes
QUICKLY reference your patterns