16 Slipper and Sock Knitting Patterns
This collection of knit sock and slipper patterns has patterns for adults, kids, and babies.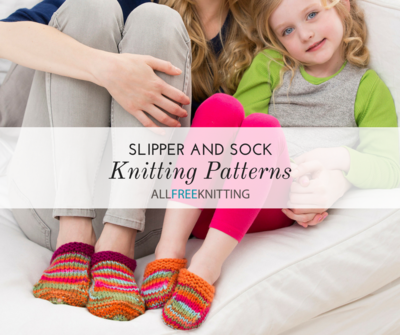 In this collection choc full of slippers and socks for the family, there's something to please anyone you may be knitting for. No matter if you're a beginner or advanced knitter, if you're a traditional or modern knitter, we have a pattern for your skill level and knitting style.

Maybe you're not even looking for sock and slipper knitting patterns for yourself, but for a child or baby. Guess what? We've got those, too! Baby booties are some of the most fun baby knits to make, and children's slipper patterns are almost too cute to pass up.

If you've never knit socks or slippers before, now is the time to try. I can speak from experience: knitting socks is addictive, and you can never have too many slippers. Almost everyone appreciates a pair of slippers as a birthday gift or a Christmas surprise! Check out the patterns below for some great ideas.
Table of Contents
Sock and Slipper Knitting Patterns for Adults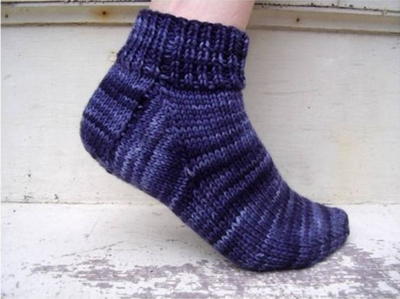 From beginner to intermediate, there are slipper and sock knitting patterns in this section for every skill level. If you're wondering how to knit socks for beginners, try the Easy Peasy Knitted Socks (pictured). If you're an experienced knitter, there are intermediate patterns in here as well.

Your toes and feet will thank you for these oh-so-cozy patterns once you try them. Or, your friends and family will thank you for the wonderfully thoughtful homemade gifts. I can't tell you how many pairs of slippers I've knit for my family for Christmas! We've even made it a holiday tradition, and you can, too.
If you're looking for more knitting patterns that will help keep your legs and feet warm, then you won't want to miss these 
Slippers and Socks for Babies and Kids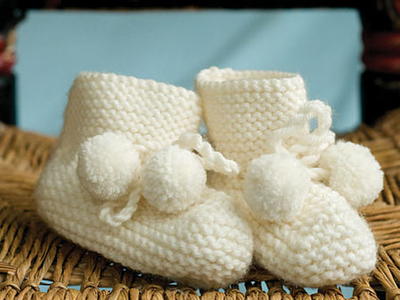 Who doesn't love a good pair of knitted baby booties or warm and cute knitted socks for kids? You'll find both of those things here, and more. Whether you're knitting for babies or kids, there's something in here that will keep all the munchkins' toes warm this winter. Both traditional and funny, these patterns are sure to be a crowd pleaser.

If you love the classic look, try the Vintage Pom Pom Knit Baby Booties Pattern (pictured) to make the sweetest booties for the bundle of joy in your life. It's always hard to come up with good baby shower gifts for the expecting ladies in your life, so why not knit the newborn his or her own little shoe collection? You can knit the same pattern in all different colors, or one of each of the patterns below! The world is your oyster.
Love knitting for babies and kids? Check out this collection of 
Bonus: Slippers and Socks for the Whole Family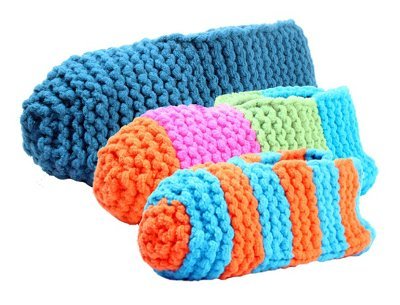 These knit slipper patterns are unique because they offer sizes for the whole family. Knitting up a collection of matching slippers is a fun and thoughtful way to bring everyone together while keeping the family toasty during the winter months. A set of matching slippers would also be a thoughtful gift for family friends or a set of new parents and their little one.

Try the Easy Family Knit Slipper Patterns (pictured) to make matching slippers the whole family will love. We also love the idea of making the same slippers in varying sizes and pastel colors for an Easter treat! They would also make an excellent gift for a family reunion... if you have enough time to knit slippers and socks for all 17 of your second cousins.
Do you prefer knitting socks or slippers?
Your Recently Viewed Projects