12 Free Rectangular Knit Shawl Patterns
Knit a rectangle shawl pattern for the fall or winter! Add warmth and a little wow-factor to your wardrobe.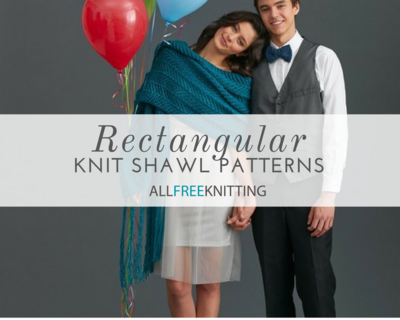 Fall weather is shawl weather! Crispy cold wind and falling leaves make layers absolutely necessary. There's nothing cozier than wrapping up in a rectangular shawl pattern. Whether you need a shawl for warmth or style, this list free knitting patterns for shawls is sure to contain the pattern for you. From quick shawls to make in an afternoon to longterm, intricate lace patterns, we have just about any knit shawl you might want or need.

Rectangular shawls are ideal for cold weather because they offer a ton of weight and warmth, allowing you to bundle yourself up right. They easily help a fall or spring jacket provide all the warmth you could possibly need. If you enjoy wearing your scarf outside of your coat, a shawl could add so much more warmth!

The Difference Between Rectangular and Triangle Shawl Patterns

As you may have guessed, the main difference between a rectangular and triangle shawl pattern is the shape of the shawl. A triangle shawl forms one big triangle or down arrow while a rectangle is a simply a rectangle, kind of like a larger scarf! This difference in shape allows for a difference in style. Rectangular shawls will provide a lot of bulk while a triangle can be wrapped to be a little more space efficient and creates a triangular wrap pattern. Generally, a rectangular shawl is easier to knit than a triangle, because it involves few decreases.
Table of Contents
Rectangular Knit Shawl Patterns
Your Recently Viewed Projects