11 Elegant Knit Triangle Shawl Patterns
Learn how to knit a basic triangle shawl or a more complicated pattern! We have shawl patterns for all skill levels.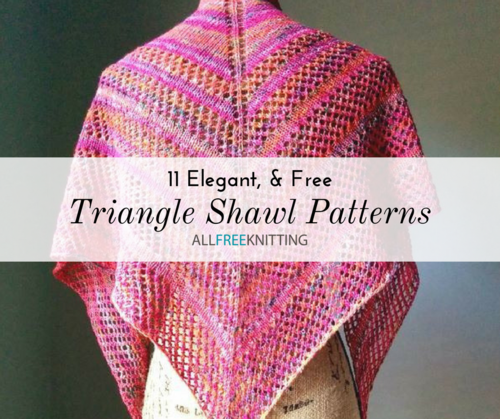 Triangle shawl patterns are a chic way to add a layered look and a little warmth to your wardrobe without being too bulky. The triangle shape of the shawl makes it easier to wrap and wear with just about anything you would like.

Add these comfy free knitting patterns atop your spring, summer, fall, and winter wardrobes! We have light and lacy knitting patterns and triangle shawls made with bulkier and cuddlier yarns. Whether you're looking for a basic knit triangle shawl or a more intermediate pattern, you're sure to find the pattern for you below.

Learning how to knit a triangle shawl is an amazing project for beginners because it allows you to make something a little more stylish and a little more complicated without requiring you to learn a new stitch or crazy technique most of the time. You'll love how all these projects look on you!

For more great projects like this, subscribe to our free email newsletter!
Tips for Making a Triangle Shawl
Many shawls are much larger and bulkier than simple scarf patterns, so be sure to work something up in a yarn that isn't too heavy.
 
Planning on knitting a triangle shawl to wear all winter? Make sure to create it in a color that matches your coat and consider something a bit darker so you won't have to clean it as much.
 
Be sure to count your stitches! It is much easier to lose track of where you are with a triangle shawl that it is with other beginner projects like simple scarves.
 
Learn the garter tab cast on. This is a type of cast on that's very common for triangle shawls because it allows you to fill in the little "gap" at the top of your work created by garter stitch edging. - Learn the Garter Tab Cast On
 
Free Triangle Shawl Patterns
All of the knitting patterns below are completely free. Just follow the link to the pattern on our site or the designer's site. You'll love the final project!
1. Openness Triangle Shawl
This triangle shawl pattern can be whipped up at lightning speed! Created with super bulky yarn, it is the perfect beginner project for a newbie knitter or a one-afternoon knit and purl adventure for an experienced knitter looking for a relaxing and simple pattern. Comes with a helpful how-to video!

Read More
2. Mesh Triangle Shawl
Another easy and stunning shawl pattern! This too pretty triangle pattern is worked up in Lion Brand Shawl Yarn, giving it a lovely color shift and ombre without changing yarns! Light and lovely, this shawl is ideal for spring.

Read More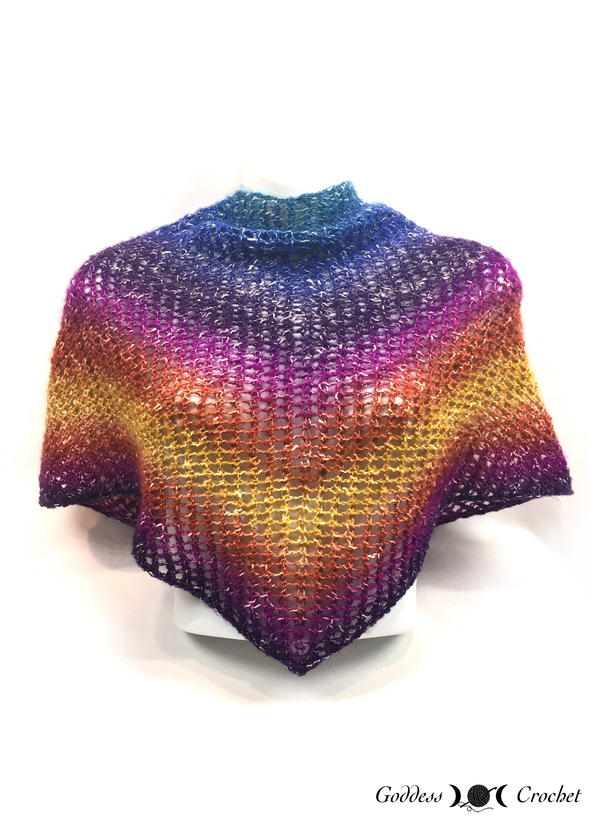 3. Beaded Triangle Shawl
This delicate and darling shawl is an intermediate pattern that works in shiny beads to give it a special shimmer. Lighter than other shawls, this project is perfect for early winter or late spring. You could even work it up in white for a wedding.

Read More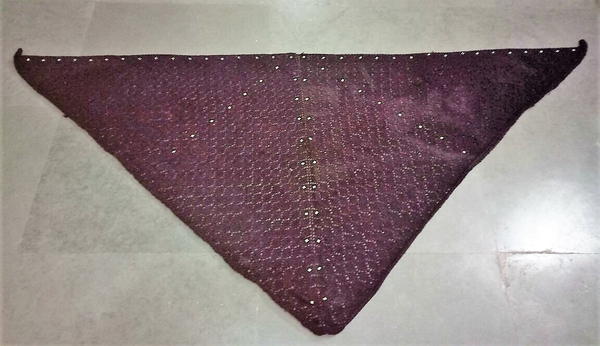 4. Triangle Summer Knit Shawl Pattern
This basic triangular shawl pattern from our friends of Bernat is worked up in worsted weight yarn. Ideal for summer, it is lovely in pinks and purples but you could create it in earth tones for a subtle summer accessory. This is a free printable pattern.

Read More
5. Simple Knit Eyelet Shawl
Simple and stunning, this flattering shawl will look lovely on just about any body type. The eyelet and peekaboo texture make it an intermediate pattern that is worth the challenge. This pattern comes from the Caron design team and is a free printable pattern.

Read More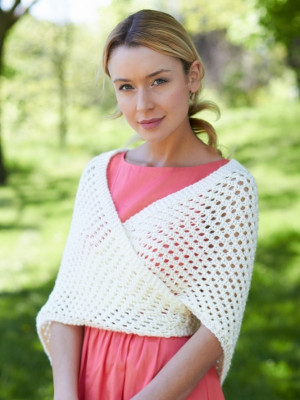 6. Hawaiian Sunset Lace Shawl
As easy and breezy as a day at the beach, this easy pattern is a stunning way to add a pop of color to your wardrobe. Perfect for a sunset stroll or gussying up a sundress, this gorgeous pattern is made with worsted weight yarn and uses the stockinette stitch.
 
Read More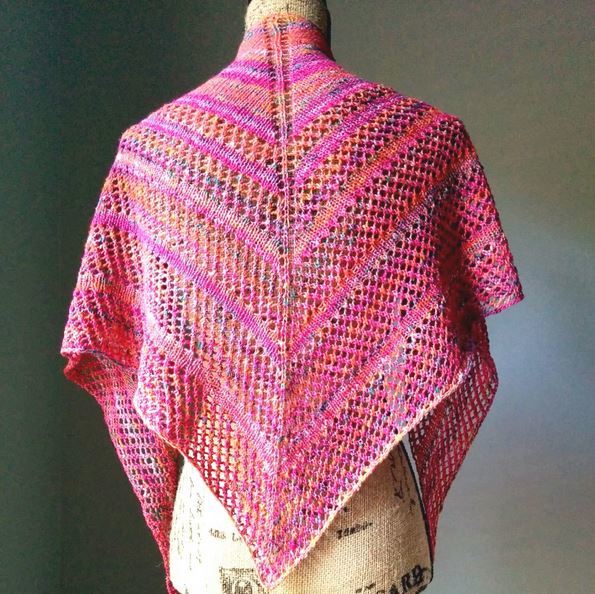 7. Glamorous Green Shawl
If you are a knitter who loves adding darling details to their projects, this is the shawl pattern for you. This gorgeous wrap includes a gorgeous detail down the center as well as sassy tassels at the ends. This pattern uses lightweight yarn, meaning it will take you a while to finish.

Read More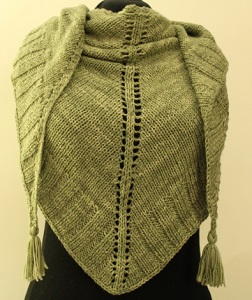 8. Strawberry Sunrise Shawlette
As sweet as a summer-ripe strawberry, this lovely little triangle shawlette is a fast project with charming results. Add this shawlette to your summer wardrobe for a hint of warmth without the weight. Created in super fine yarn, this breathable piece is topped off with tassels for some extra texture.

Read More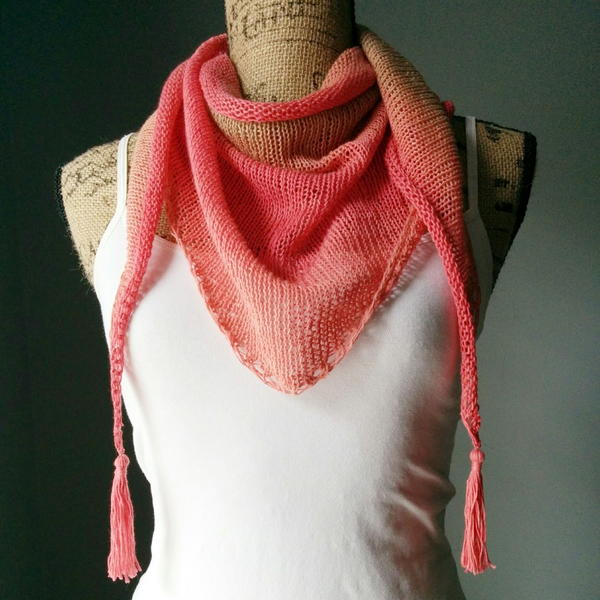 9. Frost on the Windowpane Shawl
This unique textured knitting pattern uses what is called sequence knitting to create a lovely look. Sequence knitting refers to using the same sequence of stitches over and over again to create a charming look. This is an intermediate pattern.
 
Read More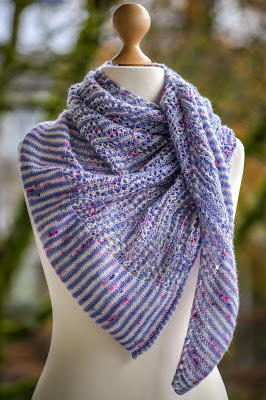 10. Vice Versa Shawl
Colorblocking never looked so unique and stylish! This charming triangle shawl knitting pattern uses 2 different colors of yarn to create a unique pattern. Topped off with poms, this free knitting pattern has a 60s vibe with a modern take. This intermediate pattern uses fine yarn.

Read More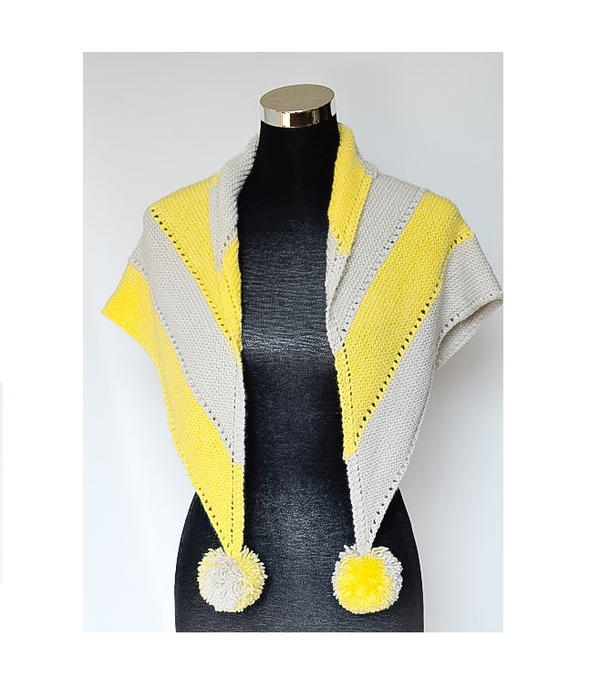 11. Midnight Ripple Shawl Pattern
Dark and smoky hues work together to create this chic and textured free shawl pattern. This large shawl is perfect for layering atop a fancy LBD or just as charming atop your winter coat for some extra warmth. This intermediate pattern is worked up with circular needles.

Read More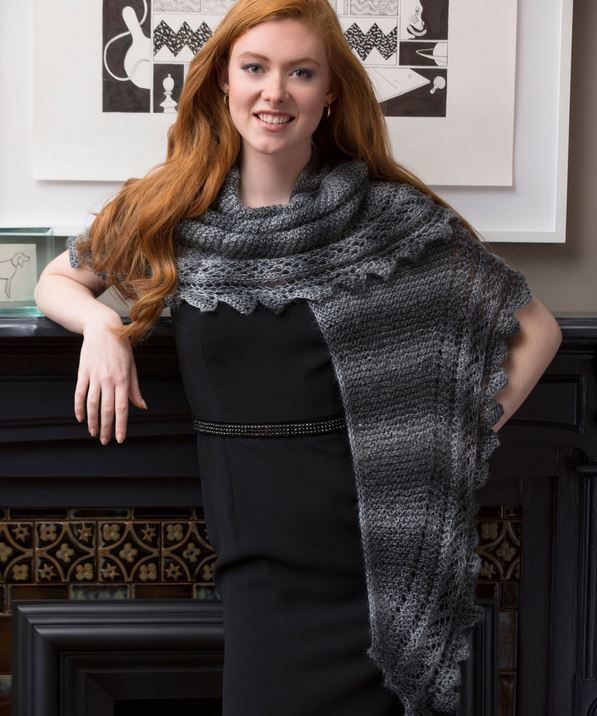 Your Recently Viewed Projects