How to Knit Using Super Bulky Needles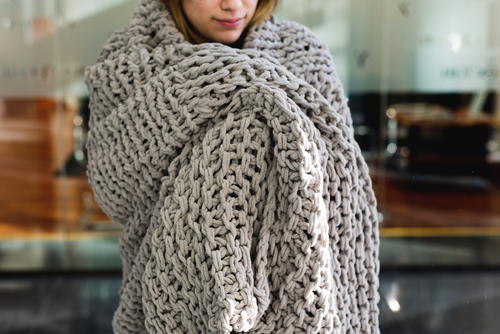 How to Knit Using Super Bulky Needles
Follow along with the super cozy bulky trend by learning How to Knit Using Super Bulky Needles with this video tutorial. There are some truly great tips and tricks to have you creating those comfy bulky patterns without having to learn how to arm knit. Stay in your comfort zone while just dipping your toe out when you learn this knitting technique. Whether you want to make a cozy blanket or even a super bulky, warm scarf for the winter, this knitting video can show you some great tricks! 

BONUS! Use your skills to make a larger-than-life knitting pattern. Check out Extreme Knitting: Everything You Need to Know About Giant Knitting Patterns.

Knitting Needle Size35 or 19 mm
Materials List
Bulky knitting needles
Yarn
How to Knit Using Super Bulky Needles
Knitting Tutorial with Bulky Needles
Type of Yarn: While using super bulky needles double up your yarn to help you get that chunky and thick look. 

To do this, you can get to skeins of the exact same thick bulky yarn and simply put two strands on your needle to double it up. 

Stretch: You can knit just like normal, but everything is a lot bigger. Stretching your hands to warm up before you work on a project like this can really help so that you do not start to cramp up.  

Take breaks or put your project aside: Making sure to either take extended breaks or not work on a single project for too many hours with these giant knitting needles can really help to keep your hands from straining and cramping as well. 

Loosen up: Be careful to not knit too tightly as you continue to work through your pattern. This will help you get that really thick chunky look if that is what you are going for. 
Your Recently Viewed Projects