Shawls for Charity Drive 2022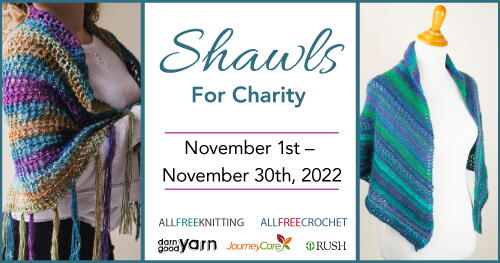 AllFreeCrochet and AllFreeKnitting love making a difference through knit and crochet. We've hosted a number of different charity drives in the past, and we are excited to announce our next charity initiative -- Shawls for Charity!

All donations will be sent to JourneyCare Hospice, the largest nonprofit provider of palliative, supportive, and end-of-life care in Illinois. JourneyCare works with a broad range of hospitals, senior and assisted-living facilities, nursing homes and clinical practices in the Chicagoland area including Rush University Medical Center, Northwestern Memorial Hospital, University of Chicago Medicine, and more.

From November 1st to November 30th, 2022, we will be collecting your crochet and knit shawls to donate to JourneyCare.

**PLEASE NOTE: GIVEAWAY IS NOW CLOSED**
Plus, click here to enter for your chance to win a Harvest Editor's Box full of yarn goodies from our friends at Darn Good Yarn!

Share Your Progress: We'd love to see how your shawls are coming along. Post your progress on social media with the hashtag #YarnItForward!
Our Mission
By crocheting or knitting a shawl for someone in need, you will be helping provide a bit of comfort to those who need it most. The shawls provide patients with warmth and a comforting embrace during difficult times. It lets them know that someone cares and it gives them hope of recovery and peace.

Something so simple can be the brightest thing that has happened to an individual facing a serious illness in some time. 

That's where you come in, knitters and crocheters!

We need your help in providing patients at JourneyCare with knit and crochet shawls. Whether you work up a quick and simple one-color shawl or channel all the brightness of a rainbow into your design, think warm thoughts of peace and hope while you do it. Once you finish your design, send it directly to JourneyCare! They will be distributing your knit and crochet shawls to individuals in their care.
When Is the Charity Drive?
The 2022 Charity Shawl Drive will take place November 1st through November 30th.
What Are the Requirements?
We really couldn't have made it easier! Knit or crochet a shawl, big enough to comfort someone, and weave a few warm and healing thoughts into it as you work. Then, box it up and send it to JourneyCare. 

* While JourneyCare does not have any requirements for the size, color, or shape of the shawls, they have a special need for shawls in patriotic colors for their veteran patients. *

A few other things to keep in mind:
Make sure the shawl is big enough to wrap around someone who may be sitting in a wheelchair or lying in a hospital bed.
 
Please avoid wool and other exotic yarns as these may cause allergic reactions. We recommend cotton or acrylic yarns.
 
Optional -- include a short note with your donation! Many patients like to know who made the shawl for them, so be sure to add your first name and where you're from.
Where Do I Send My Shawl?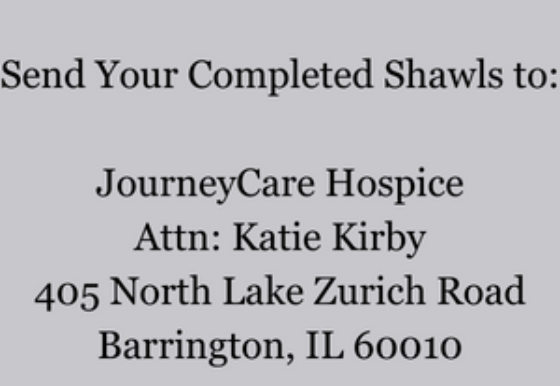 Giveaway - NOW CLOSED
**PLEASE NOTE: GIVEAWAY IS NOW CLOSED**
As a way of saying "thank you" for your generous donation, we're hosting a Harvest Editor's Box giveaway with our friends at Darn Good Yarn!

The specially curated Harvest Editor's Box includes:​​​​​​
9 skeins of premium Darn Good Yarn recycled silk yarns. In new colorways of Silk Roving Worsted Weight and Darn Good Twist Yarn, only available in the Harvest Box. Also a returning classic, Sport Weight Silk Yarn, Birch Bark
Adorable autumn notions including exclusive squirrel scissors, falling leaf gauge, Fall stitch marker pack, and more!
Friendly Fox Amigurumi Knit & Crochet Kit; and DIY Pom Pom Kit
And a specially curated pack of our favorite Fall knitting and crochet patterns!
**PLEASE NOTE: GIVEAWAY IS NOW CLOSED**
To enter, simply click on this link and tell us your favorite comforting quote or thought via the Google form.

No shawl to make? No worries! You can still enter the giveaway!
Please note the giveaway begins November 1st, 2022 – form entries will only be considered beginning then.
There is a maximum of one entry per person.
 
You have until November 30th, 2022 at 11:59 pm CST to leave your comment on this post. Forms submitted after the deadline will not be counted.
 
Contest open to US/Canada residents age 18+ only. Void in Puerto Rico, the Province of Quebec and where prohibited.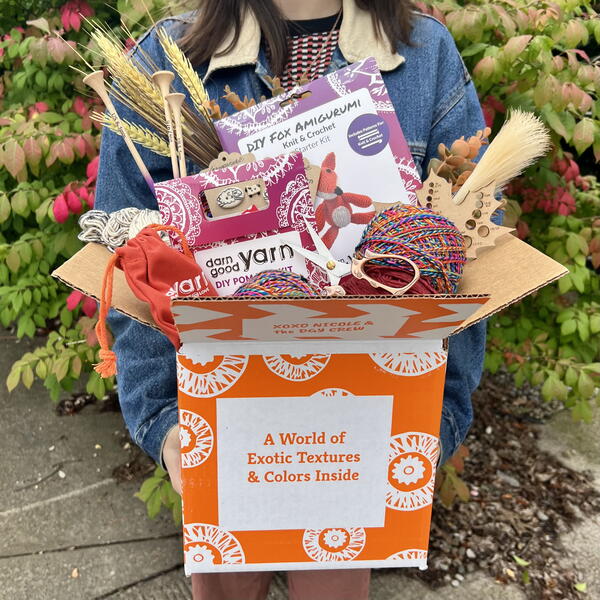 Help! I've Never Knitted a Shawl Before
Never fear! Watch this video below to learn how to knit a super easy shawl that only takes eight hours to complete and can be done by even the most novice knitter.


Your Recently Viewed Projects