Knitting Patterns for Men's Hats
These knit hat patterns for men make the perfect gifts!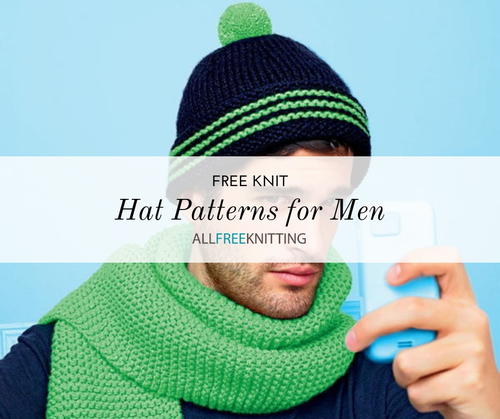 One thing all knitters have in common is finding great joy in knitting for others. I can even recall a time when I had gotten extremely ambitious and promised knitted gifts to everyone I knew. In the midst of all of the knitting, however, I think that we can agree that knitting for men — old and young — can be a tad bit on the difficult side.

So, we here at AllFreeKnitting.com want to make it a tad bit easier on you. Compiled in this list you'll find many of our free knitting patterns for men's hats that will still appeal to his more masculine fashion sense.

Some men will wear your frills and thrills with pride while others will casually toss them to the side. While you can get a feel for what he likes by hashing out a couple of quick and easy knit scarf patterns, making knitted hats for men that they'll actually wear is another story entirely.

Not only is this collection of hat patterns full of great options for those men who insist on wearing exclusively earth tones, but these patterns are also different and exciting enough that you won't be bored out of your mind. Knitted hats for men can sometimes, after all, be somewhat bland, and we're here to dispel the notion that men are only interested in wearing the most basic of hat patterns by giving you options that are stylish and fun, but still classic and widely appealing.
Your Recently Viewed Projects