Over the Top: 30 + Top Patterns for Every Occasion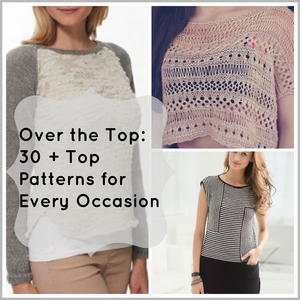 Trying on clothes in the department store can be frustrating. Sometimes they are designed for a body type that is not yours, and you always run the risk of someone else wearing the same thing. Why not create a top uniquely designed for you? In our Over the Top: 30 + Top Patterns for Every Occasion, we have compiled our favorite shirt and sweater knitting patterns for you to peruse and make. From classic garter stitch garnets to delightful lace knitting designs, we have it all. Learning how to make clothes can be daunting,even if you're an expert at hats, scarves, and mittens, but there's no need to worry. Several of these are great beginner knitting patterns if this is your first attempt at DIY tops. Still nervous? The best way to feel comfortable making your own clothes is by using your favorite method, whether that's knitting in the round or knitting sections on straight needles and stitching up the sides. You'll be a pro in no time.

Of course, once you learn how to make a shirt for yourself, you'll want to make them for everyone else. Make a sweater for the guy in your life, or a tank top for your sister or best friend. While your children may not appreciate getting clothes for Christmas, everyone else will, and the fact that you did each stitch by hand will only increase their attachment to the gift. The holidays always seem to be just around the corner for knitters, so get started on your homemade gifts now. After all, we have plenty of ideas for you right here.
Over the Top: 30 + Top Patterns for Every Occasion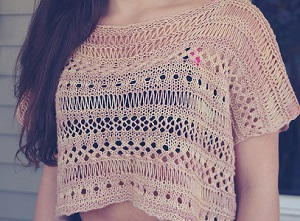 Over the Top: 30 + Top Patterns for Every Occasion Table of Contents:
---
Looking for something a little warmer? Our free eBook, How to Knit a Sweater: 7 Free Sweater Patterns, has some other fantastic knitting patterns. Get your free copy here!
---
Knitting clothes is one of the scariest things a beginner knitter can face, but you don't have to worry with these easy knitting patterns. Take it from someone who just started one of these patterns the other day; if I can do it, you can do it.
Lace knitting patterns are great for spring and summer. They are beautiful, delicate, and light enough to wear during the warm sunny days. You will love how incredible these elegant designs look on you.
It's never too late or too early to get started on your soon-to-be favorite piece of summer clothing. The great part about knitting a tank top pattern is that you don't have to worry too much about sleeves. Wear these gorgeous tank top patterns out in the dun, or under your favorite cardigan when it's colder.
You are going to love wearing these light and airy short sleeve tops. These free knitting patterns are perfect to wear all year round and most of them are super easy to create.
There's nothing better in the colder months than slipping into a cozy long sleeve shirt and to help with that, we've gathered some of our favorite patterns for fall and winter so that you can snuggle up next to the fire in style.
Knitting in the round is a lot of fun and many knitters' favorite technique. If that's the case for you, then take a look at these fantastic tops all knit in the round. Of course, if knitting in the round is not your favorite method, most of these can be completed using several double point needles.
Alas, there aren't a lot of knitting patterns for men out there, but here at AllFreeKnitting, we believe men have a right to comfy homemade sweaters too, so here are some wonderful top patterns that any guy will love.
---
Like these patterns? Check out Knit Tops that are Perfect for the Sun: 21 Free Patterns for Summer for more knitting fun!
---
Your Recently Viewed Projects