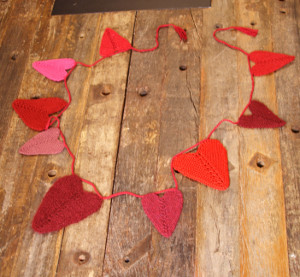 Decorate your home with the Be Mine Heart Garland for a special homemade touch. This garland of sweet, hand knit hearts is sure to brighten any room. Perfect for a nursery or a Valentines Day decoration, this simple pattern is a great way to show your love. For beginning knitters interested in learning to how to work increases and decreases, this is a great project to tackle. The shaping of the little hearts is heavily reliant on intermediate knitting techniques, so you will have ample opportunity to master some new knitting techniques.

Knitting Needle Size2 or 2.75 mm, 3 or 3.25 mm, 5 or 3.75 mm, 6 or 4 mm, Double-Pointed Knitting Needles (DPNs)
Yarn Weight(3) Light/DK (21-24 stitches to 4 inches)
Materials:
Yarn: 15-20 yards of yarn
Needles: US size 2.5 or 3 DPNS, circulars, or straight needles
US size 5 or 6 DPNS, circulars, or straight needles
US F or G crochet hook
Notions: Darning needle
1 stitch marker
Gauge: Not important

Size: Varies

Abbreviations:
k-knit
k2tog-knit 2 together
ssk-slip, slip, knit the two slipped stitches together.
Yo-yarn over
Pm-place marker
Sl m-slip marker
Co-cast on
Bo-bind off
K1f&b-knit one into the front and then the back of the same stitch
St(s)-stitch(es)

Instructions:
*Make as many hearts as you'd like--9 is a good goal number (shown), but more is even better! There is enough yarn in the sampler to make 11 hearts with one mini - skein left for the garland strand. There is enough yarn to connect all 11 hearts to the garland strand. If you choose to do more than 11 hearts, you will need more yarn for your garland strand.

CO 7 sts using the smaller needle for the finer yarns and larger needle for the heavier yarns.
Row 1: k1, k1f&b, k3, k1f&b, k1.(9 sts)
Row 2: k1, k1f&b, k2, yo, pm, k1, yo, k2, k1f&b, k1.(13 sts)
Row 3: k1, k1f&b, to marker, yo, sl m, k1, yo, k to last 2 sts, k1f&b, k1.(17 sts)
Row 4: Repeat row 3.(21 sts)
Row 5: k to marker, yo, sl m, k1, yo, k to end of row.(23 sts)
Rows 6-15: Repeat row 5.(25, 27, 29, 31, 33, 35, 37,39, 41, 43, & 45 sts for each row)
Row 16: k2tog, k to marker, yo, sl m, k1, yo, k to last 2 sts, ssk. (45 sts)
Rows 17 & 18: Repeat row 16. (45 sts)
Row 19: k2tog twice, k to marker, yo, sl m, k1, yo, k to last 4 sts, ssk twice. (43 sts)
Rows 20 & 21: Repeat row 19. (41 & 39 sts)
BO all sts.

Weave in ends of each heart and steam block.

Stringing the Garland:
With one of the BSA Skinny Cotton yarns or a DK or Sport weight cotton or cotton blend yarn and crochet hook, crochet a 10" chain.

Single crochet into the top bump of one of the first hearts to attach it to the chain. Continue crocheting the chain about 2" until the chain meets the 2nd top bump of the heart. Single crochet into the second bump to attach it to the chain.
Crochet chain 20-25 more stitches and attach the next heart in this same manner. Continue attaching each heart with 20-25 sts in between until all hearts are attached. Crochet 10" of chain on the end and tie off.

Use remaining cotton yarn to make fringe or tassels and attach to each end of the chain.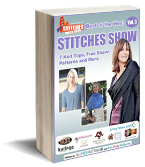 You can find this project, as well as many other exciting knitting patterns, in our new free eBook, Best of the West STITCHES Show 7 Knit Tops, Free Shawl Patterns and More, Vol. 3. Download your own free copy today!
Your Recently Viewed Projects