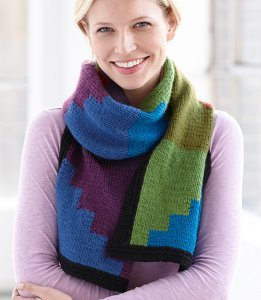 This beautiful color block knit scarf pattern will brighten up your outfit as well as the whole room. The Paintbox Scarf is a cheerful, warm knit bursting with eight bold colors in triangular shapes that span the length of the entire scarf. It's a bright, eye-catching scarf that will instantly change the look of your outfit for the better. The Paintbox Scarf truly lives up to its name, so go wild with color and knit one today.

Knitting Needle Size8 or 5 mm
Yarn Weight(4) Medium Weight/Worsted Weight and Aran (16-20 stitches to 4 inches)
Size: About 9 1/2 x 66 in. (24 x 167.5 cm)

Materials:
LION BRAND VANNA'S CHOICE (Art. #860)

#109 Colonial Blue 1 ball (A)
#145 Eggplant 1 ball (B)
#147 Purple 1 ball (C)
#107 Sapphire 1 ball (D)
#134 Terracotta 1 ball (E)
#113 Scarlet 1 ball (F)
#172 Kelly Green 1 ball (G)
#174 Olive 1 ball (H)
#153 Black 1 ball (I)
or colors of your choice

LION BRAND® knitting needles size 8 (5 mm)
LION BRAND large-eyed blunt needle

Gauge: 19 sts = about 4 in. (10 cm) in St st (k on RS, p on WS). BE SURE TO CHECK YOUR GAUGE.

When you match the gauge in a pattern, your project will be the size specified in the pattern and the materials specified in the pattern will be sufficient. If it takes you fewer stitches and rows to match the gauge, try using a smaller size hook or needles; if more stitches and rows, try a larger size hook or needles.

Notes
1. Scarf is worked in intarsia colorwork. Do not carry unused color(s) across WS of work. Use a separate ball for each block of color. When changing color, pick up new strand from under dropped strand to twist yarns and prevent holes from forming in your work.
2. Scarf can be worked from written instructions or by following the chart. When following chart, work in St st (k on RS, p on WS). When working from chart, read RS rows on chart from right to left and WS rows from left to right.

SCARF

With C, cast on 36 sts.
Row 1 (RS): With C, k6; with D, k30.
Row 2: With D, p30; with C, p6.
Rows 3-8: Rep Rows 1 and 2.
Row 9: With C, k12; with D, k24.
Row 10: With D, p24; with C, p12
Rows 11-16: Rep Rows 9 and 10.
Row 17: With C, k18; with D, k18.
Row 18: With D, p18; with C, p18.
Rows 19-24: Rep Rows 17 and 18.
Row 25: With C, k24; with D, k12.
Row 26: With D, p12; with C, p24.
Rows 27-32: Rep Rows 25 and 26.
Row 33: With C, k30; with D, k6.
Row 34: With D, p6; with C, p30.
Rows 35-40: Rep Rows 33 and 34.
Cut D.

Rows 41-48: With C, work in St st (k on RS, p on WS) for 8 rows.
Cut C.
Rows 49-56: With B, continue in St st for 8 rows.
Row 57: With B, k30; with F, k6.
Row 58: With F, p6; with B, p30.
Rows 59-64: Rep Rows 57 and 58.
Row 65: With B, k24; with F, k12.
Row 66: With F, p12; with B, p24.
Rows 67-72: Rep Rows 65 and 66.
Row 73: With B, k18; with F, k18.
Row 74: With F, p18; with B, p18.
Rows 75-80: Rep Rows 73 and 74.
Row 81: With B, k12; with F, k24.
Row 82: With F, p24; with B, p12.
Rows 83-88: Rep Rows 81 and 82.
Row 89: With B, k6; with F, k30.
Row 90: With F, p30; with B, p6.
Rows 91-96: Rep Rows 89 and 90.
Cut B and F.

Rows 97-144: Work same as Rows 1-48 using H instead of C and E instead of D.
Rows 145-192: Work same as Rows 49-96 using G instead of B and A instead of F.
Rep Rows 1-192 once more.
Bind off.

FINISHING
Top and Lower Borders
From RS with I, pick up and k36 sts evenly spaced across one short end of Scarf.
Work in Garter st (k every row) for 1 in. (2.5 cm). Bind off.
Rep across other short end of Scarf.

Side Borders
From RS with I, working across one long side of Scarf, pick up and k4 sts evenly spaced across edge of top border, 280 sts evenly spaced across side edge of Scarf, 4 sts evenly spaced across edge of lower border – 288 sts. Note: To pick up and k280 sts evenly spaced across long edge, pick up and k35 sts for every 48 rows.
Work in Garter st for 1 in. (2.5 cm).
Bind off. Rep across other long side of Scarf.
Weave in ends.
Your Recently Viewed Projects