How to Make a Headband: 20 + Free Knitting Patterns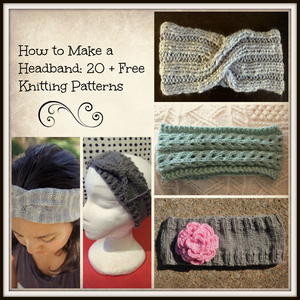 Bad hair day? Help your hair behave with an adorable and stylish headband. In our collection, How to Make a Headband: 20 + Free Knitting Patterns, holds some of our favorite headband knitting patterns that you are going to adore. Most people think that beginner knitting patterns have to be in the form of scarves or hats, but that is not the case. Headbands are great quick knit easy patterns that you can pull off even if you are just learning how to knit. Because they are so fast, headbands are fantastic last minute homemade gifts to make for your friends and family.

Hats are not always the best winter accessory. They keep your ears warm, but they mess up your hair and cause it to fill with static electricity so that you resemble Albert Einstein for half of the day. Headbands help with that problem by eliminating the top covering over your head. Besides that, they look cute and fashionable on you as you go about your busy day. Keep a couple by your door and throw them on for a lovely, chic and put together look in seconds. Whether you have a fondness for flowers, bows, or cable knitting, we have plenty of patterns you are going to adore. So take a look at these incredible easy knitting patterns and find one or two to go with your favorite outfits. We know you'll love wearing them whenever you get the chance.
How to Make a Headband: 20 + Free Knitting Patterns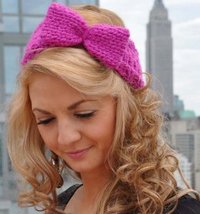 How to Make a Headband: 20 + Free Knitting Patterns Table of Contents:
---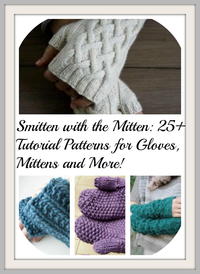 Want more great knitted accessory patterns? Check out Smitten with the Mitten: 25 + Tutorial Patterns for Gloves, Mittens, and More, for other wonderful free knitting patterns.
---
Don't fret if you're new to knitting. Just because you're a beginner knitter doesn't mean you can't create cute knitted accessories. Check out some of these beginner knitting patterns and you'll be onto more advanced things in no time.
Bows are some of the prettiest details you can add to a headband, and they are super easy to put together. Here, you'll find patterns that make a bow out of the entire headband or add the detail on outside of the basic pattern. No matter what your preference is, you'll find the perfect bow pattern here.
If bows aren't your style, try adding a bright, beautiful flower to your DIY headband. These gorgeous free knitting patters are as lovely as any summer garden. If you know how to crochet, some of these have stunning crochet flower patterns to add a little extra detail.
Cable knitting adds an elegant look to any knitting projects, and headbands are no exception. You can easily wear these accessories with any outfit to add an extra level of class to your ensemble.
---

Not quite what you're looking for? Check out our free eBook, How to Knit a Hat: 7 Cozy Hat Patterns, for other great knitted accessories you are going to love. Get your free copy today!
---
Your Recently Viewed Projects