Free Hat Knitting Pattern Using Only Straight Needles! You Won't Believe Your Eyes!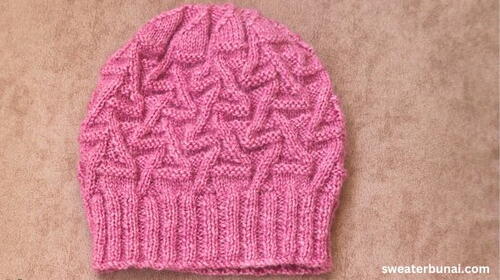 Free Hat Knitting Pattern Using Only Straight Needles You Wont Believe Your Eyes
"Are you ready to embark on a knitting journey that's not only fun but also incredibly convenient? Well, you're in for a treat! We've got a fantastic free hat knitting pattern that requires only one thing – straight needles. That's right, no circular needles, no double-pointed needles, just your trusty straights and a little bit of yarn magic. Knitting: A Timeless Craft Knitting has always been more than just a hobby; it's a craft that brings comfort, creativity, and warmth into our lives. Whether you're a seasoned pro or a complete novice, there's something undeniably satisfying about taking a simple ball of yarn and transforming it into a beautiful, functional piece of clothing. And when it comes to knitting, hats are a favorite project for many. The Perfect Pattern If you're new to knitting, finding the perfect pattern can be overwhelming. But we've got you covered. Our free hat knitting pattern is not only easy to follow but also unisex, making it a versatile option for all. The unisex aspect means you can create stylish, cozy hats for yourself, your friends, and your family. It's a pattern that keeps on giving! Straight Needles: The Unsung Heroes One of the most common obstacles knitters face is the fear of using straight needles for projects that might seem better suited for circular or double-pointed needles. But don't let that hold you back. Straight needles are incredibly versatile and can be used for a wide range of projects, including hats! Using straight needles simplifies the knitting process, making it accessible to everyone. You won't have to worry about mastering the art of magic loop or managing double-pointed needles. Straight needles are a reliable choice, and most knitters have a pair or two lying around. Free Knitting Patterns: A Treasure Trove The world of knitting is full of wonderful communities that generously share their creations and patterns for free. Our free hat knitting pattern is no exception. We believe in making the joys of knitting accessible to everyone, regardless of experience or budget. A Hat for All Seasons One of the best things about this pattern is its versatility. Knit it with a chunky yarn for a warm winter hat or use a lighter yarn for a stylish accessory in the milder seasons. You can experiment with colors and textures to match any outfit or occasion. Getting Started Before diving into the pattern, make sure you have the following supplies on hand: Straight knitting needles in the appropriate size for your yarn. Yarn in the color and weight of your choice. A tapestry needle for weaving in ends. Scissors. Stitch markers (optional). The Pattern We'd love to share the entire pattern with you here, but it's a bit too lengthy for this post. However, you can find the complete free hat knitting pattern on our website, along with step-by-step instructions and helpful tips for beginners. In Conclusion Knitting is more than just a hobby; it's a source of relaxation, creativity, and a way to show your love to friends and family through handmade gifts. Our free hat knitting pattern using straight needles is the perfect project for knitters of all levels. It's unisex, versatile, and best of all, it's free! So grab your straight needles, pick out some beautiful yarn, and let your knitting journey begin. You won't believe your eyes when you see the stunning hats you can create with just a few simple tools and a little bit of passion. Happy knitting! "

Knitting Needle Size10 or 6 mm
Yarn Weight(3) Light/DK (21-24 stitches to 4 inches)
Your Recently Viewed Projects