16 Fun and Felted Knit Patterns
These patterns were made to be felted!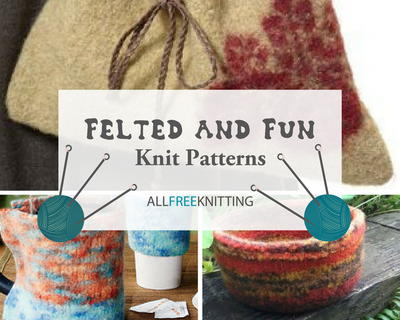 If you've ever accidentally put a wool sweater into the washing machine, you know exactly what a felted knit pattern looks like--like all your beautiful knits have melted into a heap of wool-smelling color. Felting is the process of irritating the wool fibers so that they tangle together to create a softer and less porous textile. Some people take advantage of this in order to make their wool yarn softer, others because they just like the look of a seamless felted design. If you're one of those in the latter category, then this is the collection for you! 

If you've never purposely felted your work before then you can visit this tutorial, How to Hand Felt Knit Projects, to get started. There's also this lovely knit felting tutorial that shows you how to felt your projects purposefully using your washer and dryer, a technique I have personally used to experiment with what projects look the best felted. Though, when in doubt, usually the best looking felted knits are the ones that were meant to be. Which is why we've compiled a list of seventeen beautiful felted knit patterns that you can try out for yourself. No worries if you're not a fan of the felted look--as felting is usually the last step in the pattern, these projects will still look just as good with their untouched stitches.

What are you waiting for? Grab some knitting needles and a bottle of dish soap and let's get started. 
Table of Contents
What was your first felted project - whether purposeful or accidental?
Your Recently Viewed Projects