Deborah Birchall and Louise Fitzpatrick from Fitzbirch Crafts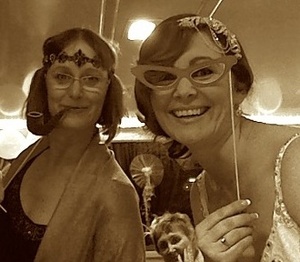 Deb and Louise are sisters who have been crafting together since they were both small girls living in a regional country town in Western Australia.

Louise was taught to knit at 6 by her Mum but Deb, being left-handed, was taught by her Dad who learned how to reverse right handed knitting so he could teach her. All of their spare time was spent making and knitting things - paper dolls, french knitting, latch hook rugs, dolls clothes, and even a school room from old boxes. This continued well into adulthood when they both had small children and would quilt together.

Before long, they found themselves on opposite sides of the world and their days of crafting together ceased. When they were finally back in the same country, albeit 3000 km's apart, they decided having a blog would be the ideal way to keep crafting together.

Deb's work space is filled with a wide assortment of crafting tools, which perfectly reflects her varied interests. Primarily a knitter and crocheter, Deb has also been known to sew, weave, loom knit, embroider, and bead. Her patterns and tutorials are often for small projects, allowing both beginners and the time-poor crafter to participate in creative pursuits.

Louise has a love of yarn and fabric which she puts to good use spinning, knitting, and quilting. She likes to design her own knitwear and if that involves mastering new techniques, all the better. Sharing her designs via the blog brings immense satisfaction, especially if it inspires knitters to take their knitting to a new level by learning a new skill.

Together, Deb and Louise love creating and running their blog. It's the perfect way to be a part of a much wider, global crafting community whilst staying in daily touch with each other.
Links:
Fitzbirch Crafts
Facebook
Twitter
Pinterest
Ravelry
Instagram
Projects on AllFreeKnitting:
Rustic Charm Boot Cuffs
50 Shades of Grey Beanie
Mocha Latte Mobius Cowl
Darkest Night Fingerless Gloves
Cabled iPad Case
Crazy Cool Fingerless Gloves
Chevron Delight Infinity Scarf
Cozy Triangle Knit Scarf Pattern
Decorative Striped Throw Pillow
Easy Knitted Bauble Christmas Ornaments
Knitted Men's Tie
Marvelous Mock Cable Socks
Your Recently Viewed Projects