Messy Bun Hat Knitting Pattern
Learn how to knit a messy bun hat with this free knitting pattern. Wear this hat when you need to keep your head warm and your hair out of your face.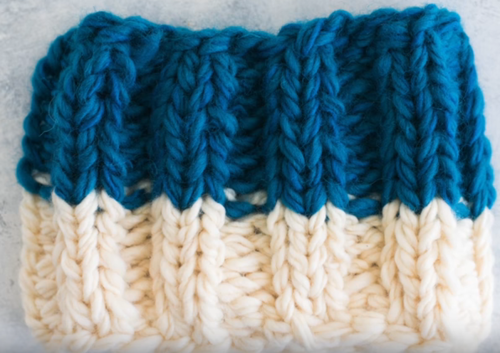 How to Knit a Messy Bun Hat
In this video tutorial, Heidi Gustad shows you how to work a decrease in the round to create the perfect messy bun hat. Bun hats are quick and easy to make and incredibly useful, especially in colder months of the year. A bun hat provides the coverage you need for your ears and head, but it has an opening on top in order for your bun to peek out and easily sit on top of your head.

Essentially, you knit an extra large ear warmer with a bit of decreasing at the top so it hugs the crown of your head but has a hole for your messy bun or ponytail to show through. Check out this video to learn how to properly work a messy bun hat decrease to create the perfect shape and fit for your head.

Instructions
Cast on the number of stitches required for the size of bun hat that you want to make. This will vary based on your measurements as well as on the needles, yarn, and gauge that you're using to knit this hat.

Continue to knit the rib stitch in the round. In the video above, we used a simple 2 x 2 rib stitch to give this hat a cute texture.

Note: If you don't know how to knit rib stitch in the round, check out our handy video tutorial here.

Once you've reached the desired length for the body of your bun hat, you'll begin your decrease rounds, which looks like this:

Decrease Rnd 1: *K2, P2, K2, P2TOG, repeat from * to the end of the round

Decrease Rnd 2: *K2, P2TOG, K2, P1, repeat from * to the end of the round

Decrease Rnd 3: *K1, K2TOG, repeat from * to the end of the round

Then just bind off, and you'll have a cute messy bun hat with an opening at the top for your bun!
Your Recently Viewed Projects