11 Knitting Patterns for the 4th of July
Are you ready to celebrate Independence Day? Even if you're not having a barbecue or festive picnic, it's hard to ignore all the energy the 4th of July brings to the entire nation. Besides being a great time of year for hosting themed parties, attending exciting parades or staying up late to see the fireworks, it's also a great excuse to knit something outside of the norm. So for this year's 4th of July celebration, why not knit something?
In this collection of 11 Knitting Patterns for the 4th of July, you'll find plenty of inspiring patterns that would make a great addition to any patriotic celebration. Whether you're searching for festive kitchen items, like a pot holder or coaster, or if you're looking for a knitted top that would make Uncle Sam himself extremely proud, you'll find everything you could hope for this this group of patterns below. Have a happy 4th of July celebration!
11 Knitting Patterns for the 4th of July Knitting Table of Contents
---



Feeling especially patriotic? Then you'll love the patterns featured in our free eBook: 11 Free Knitting Patterns for the 4th of July!
---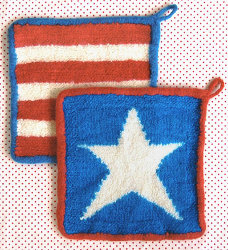 If you are planning a 4th of July picnic, you should make all of the patterns in this collection. The 4th of July Placemat, for instance, is more than just a colorful decoration. It will also protect your picnic table from any water damage from dripping soda cans or glass pitches used for punch. Knit some matching Patriotic Coasters and you'll have a festive table setting that everyone will remember!
4th of July Placemat
Patriotic Coaster
Stars and Stripes Felted Hot Pad
4th of July BBQ Dishcloth
Patriotic Patterns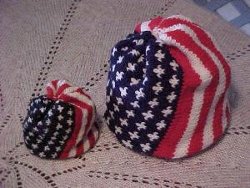 This group of patterns creams patriotism. You'll find innovative patterns for a flag and several patriotic beanie hats! Afterall, shouldn't the entire family get to participate in the 4th of July activities?
American Flag Spiral Hat
Knitted American Flag

Patterns That Are Red, White or Blue!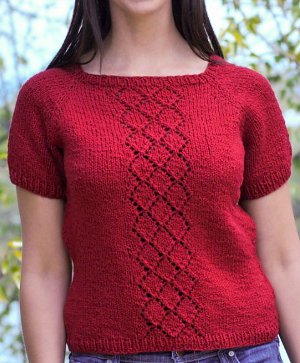 If you're not into wearing flags, why not try something a little more subtle. Knit this adorable Ruby Red Top. It's a great, and stylish way, to show your support for our nation! With your knitting needles working like crazy, you can't help but feel like you're contributing to something great, especially if you're working away on one of these free knitting patterns.
Seamless Lace Tee
Angel Lace Tank
Seaside Stripes Blanket
Caribbean Blue Tee
Blue Paradise Top
Your Recently Viewed Projects