"11 Free Knitting Patterns for the 4th of July" eBook
11 Free Knitting Patterns for the 4th of July Free eBook
Star-spangled knits for America's favorite holiday!
It's hard to imagine going a year without celebrating the 4th of July. There's just something about the smoky smell of the grill and the grass tickling your palms as you lie beneath the fireworks, like exploding stars across the night sky. It's a magnificent kind of holiday that reminds you that you're part of something bigger than yourself; you're part of the greatest country in the world, and why not celebrate that? We've put together a free eBook for you, 11 Free Knitting Patterns for the 4th of July, with a bunch of projects you can use to count down to possibly the greatest holiday ever. These free knitting patterns span from cookout knits to attire, so you'll have everything you need to show the world that you bleed red, white, and blue, if only for a day. We have overtly patriotic knits, and more subtly American projects if you plan to use or wear the end result year-round.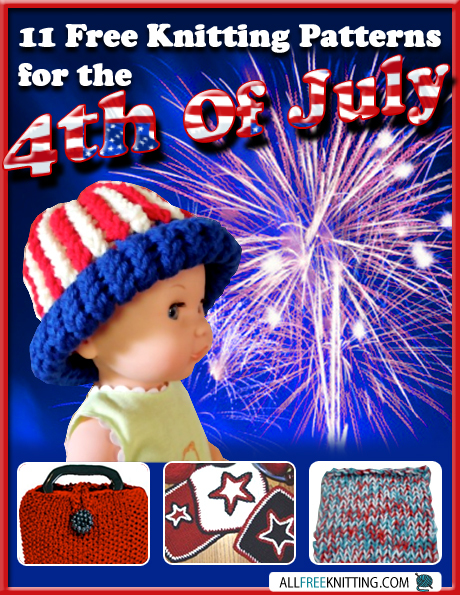 11 Free Knitting Patterns for the 4th of July
Table of Contents

Do you know how you're celebrating the 4th of July this year? Whether your celebration includes explosive fireworks, or even if it's slightly more subdued, you'll love the great patterns we've collected in this free eBook. If you're planning a large cookout or barbecue, you can't miss the 4th of July BBQ Dishcloths (pg. 9). These handy and festive cloths not only sport the colors of the American flag – red, white and blue – but they're useful in both the kitchen and as part of your holiday décor.

If you're a searching for a more subtle way to show off your love for your country, the 11 Free Knitting Patterns for the 4th of July eBook also has many simple, yet patriotic, patterns to enjoy. The 4th of July Party Purse (pg. 15) is one of my favorites. Create a festive bag in just hours, and before you know it, you're ready to head outside to celebrate!

No matter how you choose to commemorate this holiday, I hope you enjoy the variety of patterns included in the 11 Free Knitting Patterns for the 4th of July eBook. Happy 4th of July!
Happy knitting,
The Editors of AllFreeKnitting
Cookin' Up a Celebration: Potholders and Placemats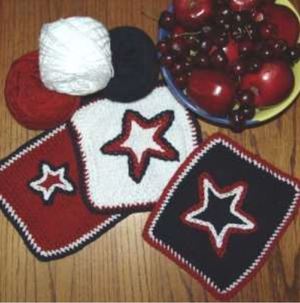 Get ready to have a festive cookout! These cute and easy free knitting patterns are perfect or use in the kitchen or out by the grill. 4th of July cookouts are some of the most popular celebrations, and don't they just make you nostalgic? Some of my fondest memories include gathering with family around the grill, eating some hot dogs, and watching the fireworks from the backyard. Imagine filling your cookout with these perfectly patriotic free knitting patterns, like the 4th of July BBQ Dishcloths (pg. 8)! Just make sure you've picked out some great food to go along with those great dishcloths.
Patriotic Bags and Purses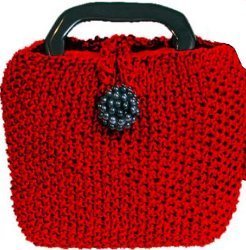 Sure, U.S.A., it's your birthday, but does that mean we don't deserve any presents? Treat yourself to one of these free knitting patterns for bags and purses to carry around your essentials when you're out celebrating. They say a woman should have a bag for every occasion, but when's the last time you found a bag dedicated to Independence Day? If you're totally into knitting yourself up a new bag with these free knitting patterns, but you want to use it more than once a year, never fear; the Red Riding Hood Bag (pg. 12) is a vibrant red, making it perfect for the 4th of July, but also lovely to wear year-round.
4th of July Fashion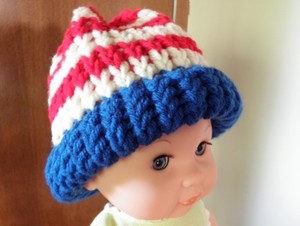 So, you've got the cookout covered, and you've knit yourself up a cute-as-heck bag for the 4th of July, but something's not quite right. You're missing your patriotic knitwear! Thankfully, we have the patterns to remedy that situation. In this free eBook, you'll find festive free knitting patterns such as the American Flag Loom Knit Hat (pg. 16) to make yourself a vision Uncle Sam would be totally into. It doesn't take being absolutely crazy about the best country in the world to use these free knitting patterns for patriotic clothes, but it certainly helps! Just don't forget to wear it all again during the Olympics!
Still curious about what's inside?
Once you download this eBook, you'll discover a ton of the most patriotic knitting patterns out there to help ring in America's birthday. We've rounded up some of the best potholders, placemats, and even some wearable 4th of July knits so you can dress up like America's biggest fan. Not enough people recognize the 4th of July as a holiday that they can knit for - all of the attention seems to be on Christmas and Thanksgiving. The truth is, with three colors, you can put together quite a bit! It's amazing how easily you can transform a tote bag or a potholder from just a tote bag or a potholder to the most American thing since apple pie by just adding some red, white, and blue. Show your love for the good ol' stars-and-stripes and download this free eBook before the fireworks go off.
AllFreeKnitting eBooks are free, downloadable knitting pattern collections organized around a theme, such as knitting in the round, knit hats, knit sweaters, baby patterns, and more. These eBooks are PDF documents that can be downloaded off our website, saved to your computer, and/or printed out for easy reference while knitting. If you are having trouble downloading our free eBooks, visit our FAQ page here: How to Download our eBooks.
With your free copy of 11 Free Knitting Patterns for the 4th of July eBook, you can also subscribe to our Knit Picky Patterns newsletter to become part of a helpful and friendly knitting community. In subscribing to the newsletter you will receive:
Six weekly emails with free knitting patterns, tips, collection pages, videos and more.
Chances to win knitting books and products from our weekly giveaways and contests.
New FREE knitting patterns made available to you throughout the year.
Access to our free pattern library full of over 1,000 more free knitting patterns.
The opportunity to share ideas and help others in the knitting community.

With our latest eBook, 11 Free Knitting Patterns for the 4th of July, you'll find yourself knitting any number of adorable free knitting patterns. And once you subscribe to receive our newsletter, Knit Picky Patterns, you'll see how incredibly rewarding it is to be a part of the knitting community! Check out this free eBook and the AllFreeKnitting.com site to draw tons of knitting inspiration!


Your Recently Viewed Projects