Knitting with a Loom Basics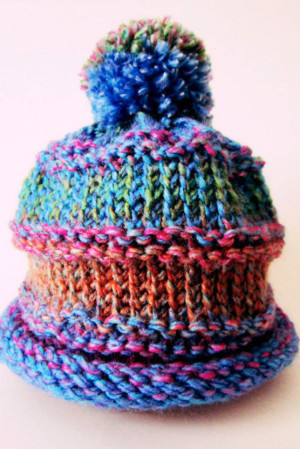 If you have ever wondered how to knit with a loom, then you need to check out these Knitting with a Loom Basics. You will find everything you need to know about loom knitting. Before you know it, you will be an expert using a knit loom. Many people find knitting with a loom easier than knitting with traditional knitting needles. Knit loom patterns are also ideal for beginner knitters who are just starting out or for those who do not feel comfortable working with needles. The knitting loom is a great way to get your feet wet in the knitting world without worrying about ruining a pattern along the way.
Your friends and family members will sure love all the wonderful knitting patterns you can work up using a loom. The knitting loom is certainly a helpful tool for knitters of any skill level. Plus, since there are many different shapes of knit looms, you can use them to make a wide variety of projects, including hats, socks, scarves, and blankets.
Looms are also a great alternative for those who may suffer from arthritis and cannot physically hold knitting needles. Whether you don't have the skills to use needles or have physical limitations preventing you from being able to hold needles, knitting looms are a great alternative.

Knitting with a Loom Basics

What is a knit loom?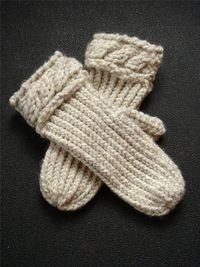 Before learning how to use a knit loom, it's important to lay the groundwork and understand exactly what it is. The are several different brands and styles when it comes to knitting looms, but the general idea is there are a number of evenly spaced pegs on a frame. You use those pegs to knit. Round looms are most often used for hats or even socks, while rectangular looms are typically used for blankets and scarves. If you walk into any craft supply store, you are bound to see several different types of knitting looms and you will need to choose the best one depending on the type of pattern you plan to make.
Keep in mind knitting looms come in many sizes, so you will need to choose a loom depending on how wide you want your knitting to be instead of how long. Knit looms give you the ability to knit two colors of yarn at once - as long as the yarn is not too thick.
Round looms are a bit more versatile than their rectangular counterparts, because you can knit in a circle or knit flat panels. If you're following a round loom knitting pattern, the pattern will usually specify how many pegs your loom should have to successfully complete the project.

How do you master loom knitting?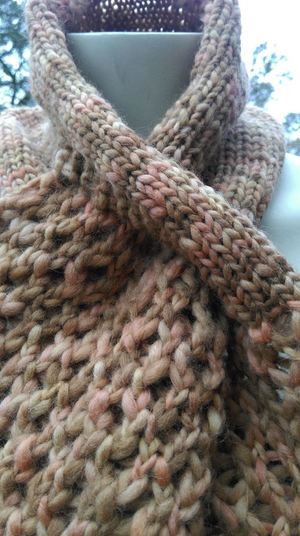 Now that you know what knit looms are and the available options, it's time to learn how to master loom knitting. Once you get the hang of this type of knitting style, you'll wonder why you waited so long to give it a try. Especially since you can create beautiful knitted pieces in a short amount of time and a minimal amount of effort. The good news is knitting with a loom is a simple process. To begin, you wrap the yarn around the pegs and use the hook to pull the bottom loop of yarn over the top loop. The process is exactly like traditional knitting except for the fact that the loom is holding all the stitches for you instead of your needles.
Steps to cast on with a circular loom:
Tie a slipknot with a 5-6 inch tail.
Slide the slipknot on the anchor peg and gently tighten it.
Move the yarn to the inside of the loom, straight up from the anchor peg and bring it around a peg in a circle to the inside of the loom again.
Repeat for next peg.
Continue all the way around the loom. At this point, the yarn crosses over itself on the inside of the loom and there is a single wrap of yarn on the outside of each peg.
Once you get to the beginning of the loom, go all the way around again.
The second row of loops should be above the first row. When you finish the second row, there will be two loops on each peg.
Wrap the yarn around the anchor peg a few times to secure it or use a half hitch.
To knit off, insert the hook tool into the lower loop and pull the stitch over the top loop, over the top of the peg, to the inside of the loom.
Continue knitting off all pegs until all pegs have just one loop on them.
Keep in mind it does not matter if you wrap the loom in a clockwise or counter clockwise direction. When you knit flat pieces on a round loom, you will be going back and forth. It also does not make a difference whether you hold the loom with the pegs facing up, down, to the left, to the right, or any other direction. When casting on, do not wrap the yarn as tight as it will go, because you will have a hard time moving it off the pegs. You want the loops to be snug enough to not fall off.
Now that you have successfully cast on to your loom, the loom knitting stitches will be a breeze. Give these free loom knitting patterns a try now that you know the basic skills of this technique. Knitting is no longer reserved just for needles, so purchase a loom and get started on some fabulous loom knitting patterns today.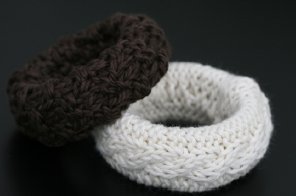 Have you ever knitted with a loom? Share your tips and tricks below!
Your Recently Viewed Projects