How to Turn a Scarf into an Infinity Scarf
This simple trick will transform any scarf into a beautiful and trendy infinity scarf!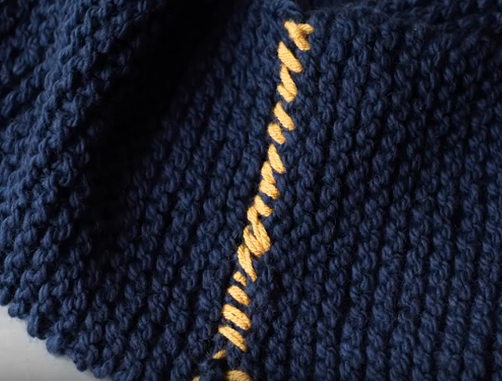 Transform a Scarf into an Infinity Scarf
Learn how to make a knit infinity scarf from any knit scarf with this video tutorial! For beginner knitters, it can be a little intimidating to jump into knitting in the round in order to knit an infinity scarf or cowl, but you can easily turn your finished scarf into an infinity scarf by just seaming the ends together.

Learn some tips for seaming your ends so your scarf stays together. You can also use the mattress stitch or the Kitchener stitch as well, but you can also use a very beginner-friendly stitch technique that embraces the seam. Give it a try and show us your photos of your infinity scarves in the comments below!

Instructions
Measure a piece of yarn that's about 4 times as long as your cast-on/bind-off edge.

Thread the yarn through a tapestry needle. Bring the tapestry needle to the center of the piece of yarn and tie the other two ends together so you have a circle of yarn.

Sew through one of the corners of your scarf.

Catch the knot at the other end of the yarn loop, bringing the tapestry needle through your yarn loop and securing the first stitch.

Insert the tapestry needle into the stitch on the other end of your scarf that aligns with the first stitch. This is essentially a whip stitch.

Continue doing a whip stitch to the end of your scarf.

Once you've reached the end, bring your needle through both of the final stitches. Then take your tapestry needle and bring it up and through the stitch you just made.

Catch the loop below to tie a knot with the yarn.

Sew back up through the stitches you've made to secure the yarn.

Trim the tail of yarn, and you've got an infinity scarf!
Your Recently Viewed Projects