How to Knit with Multiple Types of Yarn
Knitting with different yarn fibers and weights can have a big effect on your final fabric!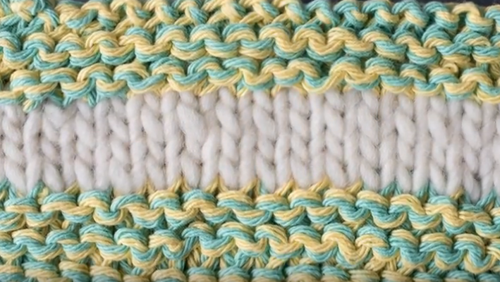 When knitting with multiple types of yarn, there are two things you need to keep in mind. First, make sure that your knitting gauge stays the same, as seen in this video, by combining two strands of the cotton yarn. Secondly, since the fibers of the material are different and different fabrics react differently to heat, make sure you take extra care when washing the garment. Nonetheless, the finished product of working with two types of yarn is always gorgeous, because you can combine multiple textures and even different stitches within the same knitting pattern.
1. Double up if you have to
Working with yarn that has different fiber content is much easier if the weight of the yarn matches across all yarns. This is sometimes hard to do as the fiber can change the width of the yarn, thus altering the gauge. To correct for this, you can double up on your yarn that's thinner to prevent an uneven gauge throughout your pattern.

To do this:
Insert your needle through both strands of yarn
Knit or purl as you normally would, making sure you don't accidentally split the yarn
Sweep both strands of yarn off of the old needle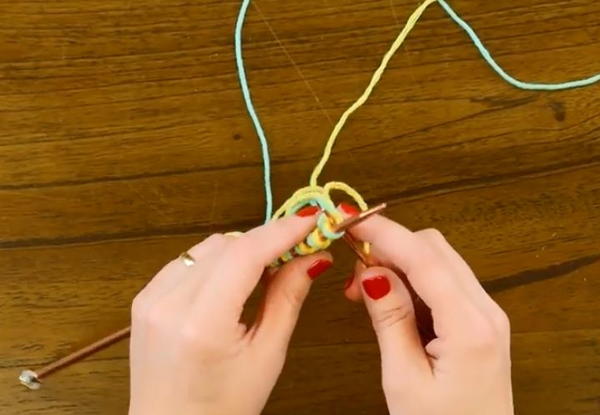 2. It will feel uncomfortable
When you're switching between the different types of yarn, it will feel a little odd at first. With one type of yarn on your needles and a different type in your hand that's working the stitches, it can be a weird sensation. Just keep in mind that this is only for one row, and once you've done an entire row in the second type of yarn, it will feel a little more natural
3. Pay attention to your gauge
Gauge is vital when working with different types of yarn. We recommend swatching beforehand with both types, even for items that don't typically need to be swatched. This is because, if once yarn creates a much tighter gauge, you will get a puckering on the edges of your work, and it won't lay flat.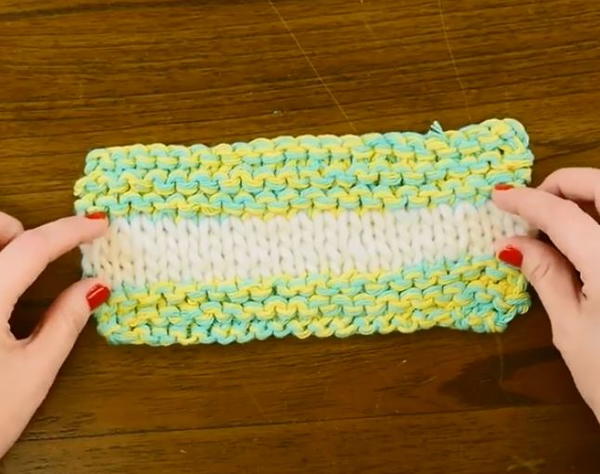 4. Be careful when laundering
Different fibers behave differently in the wash. Pay close attention to your yarn labels so you know what washing methods work for all types of yarn used in the project. For example, cotton yarn is usually fine to wash in warmer water, but wool will shrink.
What are your tips and tricks for working with different types of yarn?
Let us know in the comments!
Your Recently Viewed Projects