How to Knit the Feathered Ladder Stitch
This two-row repeat lace stitch is just what you need for your next shawl!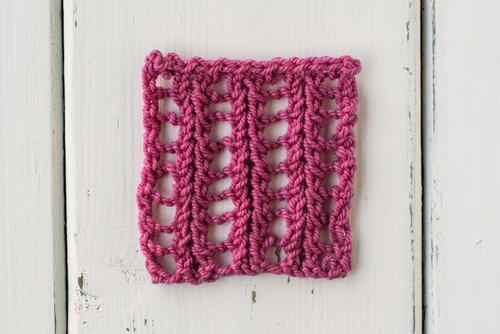 How to Knit the Feathered Ladder Stitch
Learn another fun lacy stitch when you check out this tutorial for how to knit the feathered ladder stitch. This stitch is so versatile and could be used in so many different patterns to make them super breezy. Master the feathered ladder stitch and work on using it in your next shawl pattern to try and make it a great summer shawl. Or make a breezy scarf with this lacy stitch that would be perfect for summer walks at night or evenings out!

Lace is often a genre of knitting that knitters avoid because they think it's complicated or because the rows are hard to memorize. This pattern definitely isn't for beginners, but it is only a two-row repeat, so after a few repeats, you'll practically be knitting this stitch in your sleep.

Pattern

CO a multiple of 4 sts

Row 1 (RS): * K2tog, yo twice, ssk, repeat from * to end of row

Row 2 (WS): * P1, purl through the first loop of your yo, knit through the second loop of your yo, p1, repeat from * to end of row
Techniques Used in This Stitch
Your Recently Viewed Projects