How to Knit the Waffle Stitch
This knit stitch is great for beginners who want to move beyond garter stitch and stockinette.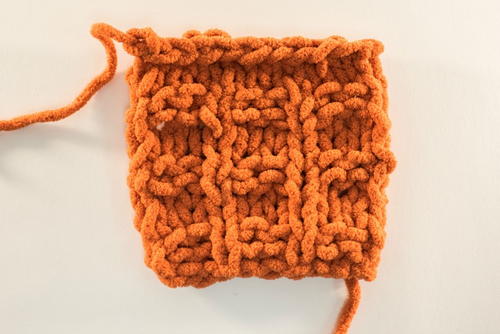 How to Knit a Waffle Stitch
The waffle stitch is very cleverly named after the gorgeous purl peaks that are created when you knit this stitch. Not only is this a super easy stitch to master, but it is versatile, too, so you can incorporate it into just about any project you can think of! So get ready to knit some amazing patterns.

We recommend this stitch for beginners who want to move beyond the knits and purls of stockinette and garter stitch. This stitch is a great way for knitters to learn the mechanics of knit stitches and to experience, row by row, how the stitches interact with each other.

Instructions
CO a multiple of 3 plus 1

Row 1: (RS) * K1, p2, repeat from * to end of row

Row 2: (WS) * P1, k2, repeat from * to end of row

Row 3: K across

Row 4: P across

Repeat rows 1-4
Learning to knit is a lot easier one stitch at a time. That's why we compiled all of our videos that help you learn the different types of knitting stitches all in one place with our Knitting Stitches Library
Your Recently Viewed Projects