How to Knit Raglan Sleeves
Raglan sleeves are great for beginner knitters, and they create beautifully seamless shoulders, too!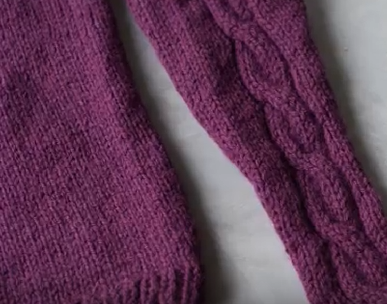 How to Knit Raglan Sleeves
Raglan sleeves are typically the first sleeves that many knitters learn when they start knitting sweaters. They're easy to make, and there's little to no seaming involved, so you will get a sturdy garment that looks great, too.

This video will give you tips and tricks for knitting raglan sleeves as well as some pros and cons to consider if you're thinking about including raglan sleeves in your next sweater design. Because raglan sleeves attach directly to the collar, many knitters find that these sleeves create a comfortable feel and that the finished sweater lies nice and flat on the shoulders.

Raglan sleeves are a popular choice for casual tops and sweaters because of how nicely they work up and how they look when complete. Whether you're working a top-down sweater or a bottom-up one, you'll love working a raglan sleeve design to produce a gorgeous and more seamless sweater.
What Are Raglan Sleeves?
Raglan sleeves are sleeves that attach directly to the collar of the sweater or shirt. This creates a diagonal seam from the collar to the underarm, similar to what you would see on a baseball t-shirt.

Raglan is a great design because of its seamless nature. In her book, The Principles of Knitting, June Hemmons Hiatt writes, "Because there is no seam or join of any kind at the armhole, a garment with a raglan sleeve allows very comfortable movement and adapts easily to different body proportions."

Raglan sleeve formation involves increasing in top-down construction & decreasing on bottom-up construction.
Pros and Cons of Raglan Sleeves
Pro: The shoulders of the sleeves will lay nicely and comfortably.

Con: The line of the sleeve can sometimes be "sharp" and might not look as natural as set in sleeves.

Pro: These sleeves will create a seamless feel. You will see the increases and/or decreases on your project, but because the sleeves are attached to the body with a continuous piece of yarn, there's no real seem in the garment itself around the shoulders.

Con: Raglan sleeves often create extra fabric underneath the armpit, which can make them less comfortable. There are easy solutions to this, however, like doing a three-needle bind off.
Other Types of Sleeves
Set in sleeve
Set in sleeves are joined to the body of the garment and do not meet with the collar. The seem that is used to attach set in sleeves forms a T shape, starting at the edge of the shoulder and continuing around the armhole

Dolman sleeve
These sleeves are tighter around the wrists and wider at the top, creating a very trendy, flowing silhouette that's great for t-shirts and cardigans alike.

Kimono sleeve
Kimono sleeves are the inverse of dolman sleeves. They are typically wider around the wrists and tighter at the top where the sleeve connects to the body of the garment.
Your Recently Viewed Projects