How to Knit the Close Stitch
The garter stitch version of the heel stitch! Durable and great for wear and tear.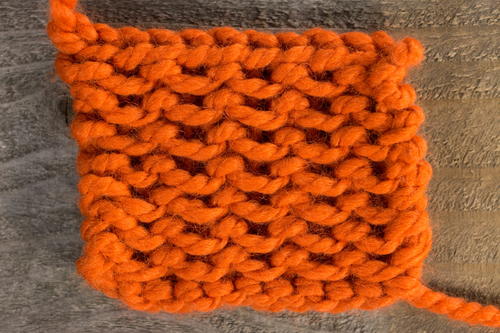 How to Knit the Close Stitch
The close stitch is an incredibly simple stitch to knit. It's sort of like the heel stitch but in a garter stitch variation. Part of what makes the close stitch so simple is that it's a two-row pattern, and it only involves knitting and slipping stitches; there's no purling involved.

This knit stitch is useful for patterns like socks, especially the heels, and parts of sweaters and shirts that receive a lot of wear and tear. The slipped stitches pull up some of the tension from the rows below, which takes away some of the stretch that you get with stockinette and garter stitch. For fabric that you want to stand the test of time, a little bit less stretch is actually a good thing.

Full Pattern
CO an odd number of sts.
Row 1: (WS) Knit across
Row 2: (RS) K1, (s1wyib, k1) repeat to end of row
Right Side Rows:
With the yarn on the back side of your work, slip the next stitch purlwise to your working needle.

Repeat steps 2 and 3 until you've reached the end of your row.

Turn your work to the other side.
Wrong Side Rows:
Knit all stitches in the row.

Repeat the wrong and right side rows throughout the part of your pattern that calls for the close stitch.
Your Recently Viewed Projects