How to Knit the Chevron Stripes Stitch
This zig-zag knit chevron pattern is so simple. All you need to know is how to knit and purl!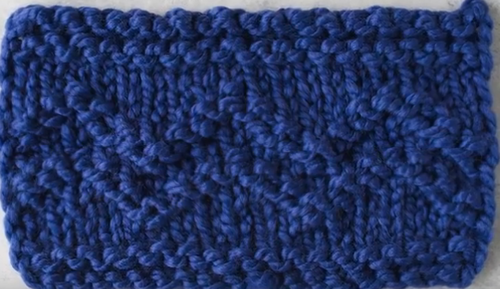 How to Knit Chevron Pattern
Using basic, beginner-level stitches, Heidi Gustad was able to create texture to an otherwise simple knitting pattern for beginners. With only knit and purl stitch used to make the raised, chevron stripes, knitters at any level can create a fun pattern. This is a great tutorial to add embellishment to scarves, knit bags, or handmade gifts of any kind. While knitting chevron stripes, be sure to closely follow the pattern you're using to be sure the stripes line up with each other before moving ahead.

Instructions
CO 18
Row 1: (RS) K all sts

Row 3: *P1, k5, repeat from * 2 times

Row 4: K1, *p3, k3, repeat from * once, p3, k2

Row 5: *K1, p2, repeat from * to the end of the row

Row 6: P1, k3, *p3, k3, repeat from * until you have two stitches left on your needle, p2

Row 7: *P1, k2, repeat from * to the end of the row

Row 8: K1, *p3, k3, repeat from * until there are 2 stitches remaining on your needle, k2

Row 9: K1, *p2, k1, repeat from * until you have 2 stitches remaining on your needle, p2

Row 10: P1, *k3, p3, repeat from * until you have 2 stitches remaining on your needle, p2

Row 11: K3, p1, k5, p1, k5, p1, k2
Your Recently Viewed Projects