How to Knit the Zig Zag Slip Stitch
This stunning slip stitch motif is one knit stitch you'll want to keep around for you original designs!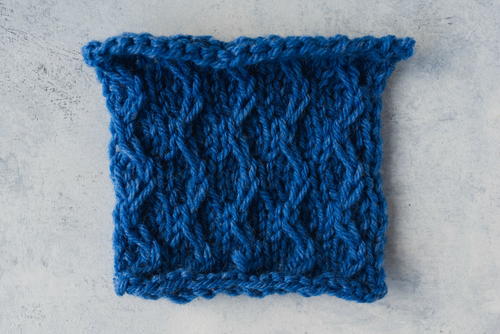 Easy Zig Zag Slip Stitch Pattern
The zig zag slip stitch is great for anyone who is just learning how to work the slip stitch in knitting. You can work this pattern into so many different knitting projects to add a simple but cute decorative flair.

Slip stitches come in handy in so many different styles of knitting from chevron stitches to even mosaic colorwork knitting. Give this stitch a try to practice the slip stitch, and you just might find yourself incorporating it into your own original designs!

Knitting Needle Size3 or 3.25 mm
Want another easy stitch that is a bit of a conundrum? The mistake stitch is a really fun textured stitch that you will want to incorporate into your next sewing project on purpose! How to Knit the Mistake Stitch
Instructions
CO a multiple of 4 sts

Row 1: (RS) K across

Row 2: (WS) * S1wyif, p3, rep from * to end of row

Row 3: * K3, s1, rep from * to end of row

Row 4: * Drop slipped stitch from LH needle to front of work (towards the RS), p2, pick up dropped stitch and purl, p1, rep from * to end of row

Row 5: Repeat row 1

Row 6: * P2, s1, p1, rep from * to end of row

Row 7: * K1, s1, k2, rep from * to end of row

Row 8: * S2, drop the slipped stitch from LH needle to front of work (towards the RS), place the 2 slipped stitches back on LH needle, pick up the dropped stitch and place it back on the LH needle, purl these three stitches, p1, rep from * to end of row

Rep rows 1-8
The box stitch is another great stitch that is very versatile and can be used in numerous knitting patterns. Learn how to master it when you watch this video tutorial! How to Knit Box Stitch
Your Recently Viewed Projects