How to Stop Stockinette from Curling
These 6 stockinette curling solutions will help you get your knitting on the right track!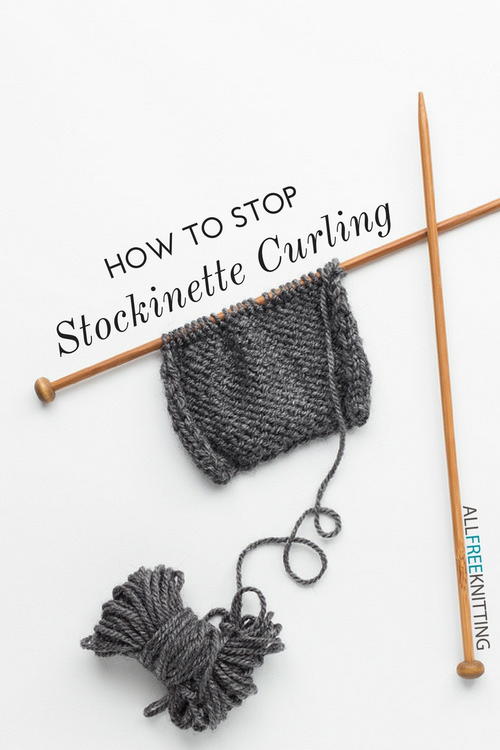 One of the most common questions that we get from beginner knitters is about how to stop stockinette stitch from curling. And for a good reason — it can be super frustrating!

After all, stockinette is the most iconic stitch associated with knitting. So why don't we have a simple solution to this problem? And why on Earth does stockinette curl in the first place?

The dreaded stockinette stitch curl has to do with the size and shape of the stitches themselves. The right side of stockinette (the side that forms the V-shaped stitches) is shorter and wider than the wrong side (the side with the purl bumps). Because stockinette works by pointing all of your stitches in the same direction, you don't get the same balance of stitches pulling and pushing on each other, like you do with garter stitch. The result is that it curls in towards the right side vertically and towards the right side horizontally.

The only time that this is a real problem for knitters is in stockinette scarves and shawls. Most other knitted items, like socks, hats, and sweaters, take curling into account with their shaping.

We've gathered our top tips and tricks for how to prevent this from happening, but keep in mind that there is no one way to prevent it totally. Try any of these six methods to beat that dreaded curl and let us know in the comments what works for you!
Solution 1: Adding Garter Stitch Edges
Garter stitch is probably the first stitch that you learned as a knitter, and it doesn't suffer from the same kind of curling that stockinette does.

It's simplicity makes it great for modifying patterns to prevent curling. You can very easily add on a border of stitches on the top, bottom, and sides of your piece to help even out the pull on the stitches that happens in stockinette.

One thing to keep in mind with this approach, however, is that the more stockinette you have in between your borders of garter stitch, the more likely your fabric will be to curl anyway.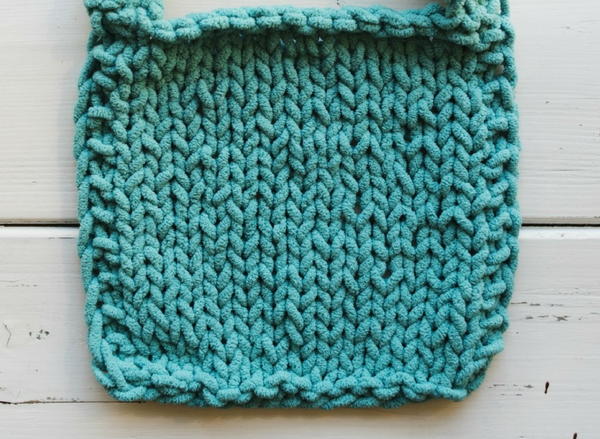 Solution 2: Wet Blocking
Wet blocking can be a solution for lighter curling and for patterns that use lighter yarn weight. But this is not always the case, especially for acrylic yarn. Proceed with caution.

Blocking won't hurt your pattern per se, but it is not always the best solution for curling. We recommend using wet blocking as a way to prevent and fix curling for patterns that are mostly but not entirely stockinette stitch. If you've done wet blocking before, you know the wonders that it can do for a piece of fabric. That said, wet blocking works better as a way to "clean up" your stitches and make the fabric look more professional; it does not change the nature of the stitches themselves, which is what is truly required to fix this curling.

Give wet blocking a try, and it might just be a solution for your pattern, even if it's only temporary.

Check out our guide: How to Block Knitting + 22 Tips for Blocking Knitting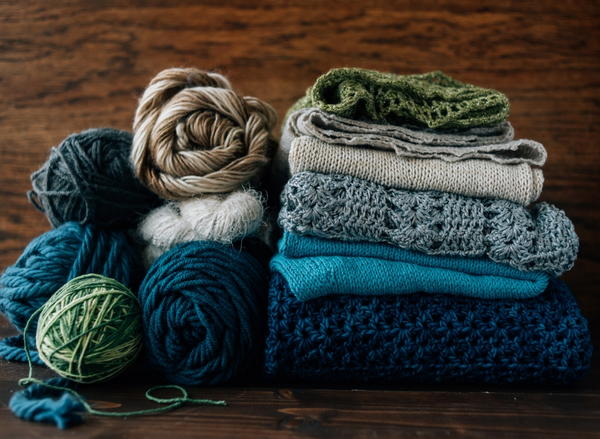 Solution 3: Opt for a Ribbed Stitch
Ribbed stitches are another great way to even out the pull and curl on stockinette stitch.

In general, the tighter the ribbing is, the more it will look like stockinette. A 1x1 rib stitch will be almost indistinguishable from pure stockinette with a tight gauge, and you will get those gorgeous V-shaped stitches on both sides of your fabric.

Similarly, mistake stitch, fisherman's rib, and brioche stitch are great options, but the look won't be quite the same as a classic English rib stitch.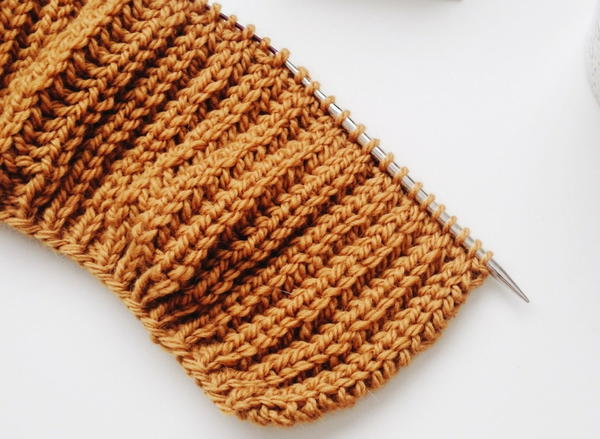 Solution 4: Use Bigger Needles
Using bigger needles is a great way to make your work lie a little flatter. This will change your gauge a little bit, but it will also make your stitches bigger and "roomier," which creates more of a drape in your work and less of a tight fabric that tends to curl.
If you're looking for a new stitch to try that looks like stockinette but doesn't have the same curl, be sure to check out Knitting Stitches Library
Solution 5: Double Stockinette
If you're not down for a ribbed stitch, double stockinette is another great option. While it does look very similar to stockinette, it is not a perfect replica; in general, the bigger your yarn and needles are, the more it will look like normal stockinette.

Unlike regular stockinette stitch (knit 1 row, purl 1 row), double stockinette gives you the V-shaped stitches on both sides of your project, and you don't have to worry about alternating rows of knitting and purling. There's just one row for the pattern that you can repeat until your project has reached the desired size.

Here's how to do it:
Cast on an even number of stitches.
* Knit 1, bring the yarn to the front and slip 1 purlwise.
Repeat from * until the end of your row.
Turn your knitting and repeat.
Solution 6: Sew on a Backing
If none of these other solutions have worked, you might try sewing on a backing to your knitting. Whether you're knitting a scarf or an afghan, adding backing will definitely help your stockinette stay nice and flat. Plus, it's a good way to cover up the back side of your knitting if it looks a little strange.

Here are a few things to keep in mind, if you're going to be sewing a backing to your project:
Try to choose a fabric that's of equal weight or strength as the yarn you used to knit. A weak fabric will not help flatten your knitting as much.
If you also plan to wet block your knitting, be sure to do that before adding the fabric.
Consider the type of stitch you'll be using to add your fabric. We recommend whip stitch, blanket stitch, or blind stitch
This image courtesy of foxflat.wordpress.com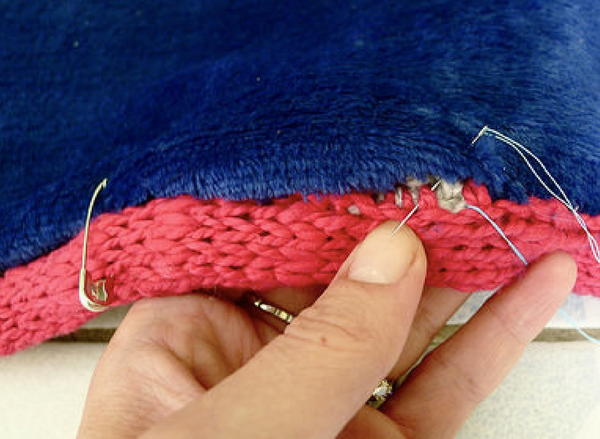 Solution 7: Embrace the Curl!
Who says your projects have to lay perfectly flat? From scarves to hats, you can make stockinette curling work for you, if you just embrace it. For example, stockinette curling can work in your favor in knitted hats by adding a short brim. The same thing can also work in scarves to give you a narrow but thick scarf that's great for spring and fall.

Stockinette is one of the most beloved stitches in knitting. Embrace this beautiful stitch in all of its curly glory and happy stitching!
Do you have your own solution to stockinette curling?
Let us know in the comments!
 
Your Recently Viewed Projects