Dreamz Single Pointed Needles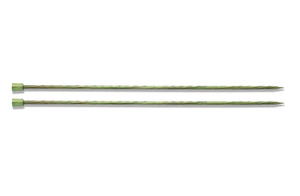 Dreamz Single Pointed Needles
Gifted by: Knitter's Pride
www.knitterspride.com
Reviewed by Christine Weiher, AllFreeKnitting.com


Knit one, purl two. Choose your favorite yarn. Grab a set of knitting needles. Learning the art of knitting will open up a whole new world in the crafting industry. If you're just learning to knit then it's crucial to really understand the tools you're working with. My newest favorite set of needles is the Dreamz Single Pointed Needles from Knitter's Pride.

These single pointed needles have perfect points and are flawlessly tapered, which is ideal for all yarns and every knitting project. The needles are strong, flexible and lightweight, giving you a positive experience when using them. The polished wood surface works effortlessly with every type of yarn without slowing down your knitting rhythm. Because this needle is gentle in the hand and warm to the touch, it can provide hours of knitting without those nasty hand cramps or fatigue.

What I really like about these needles is that they come in an array of fantastic colors for mix and match or organizational options. Each color is a different size needle: Size 2.5 is Yellow Topaz, size 3 is Royale Blue, size 5 is Orange Lily, size 9 is Misty Green, and size 10 is Candy Pink. You get the picture; there are 15 needle sizes and colors to choose from.

Some have said these are the smoothest and most luxurious knitting needles they've ever worked with. I've also heard the stitches seem to fly on the needle implying these are easy to use and will work up your projects quickly. Don't take their word for it, try out a set today!
Your Recently Viewed Projects